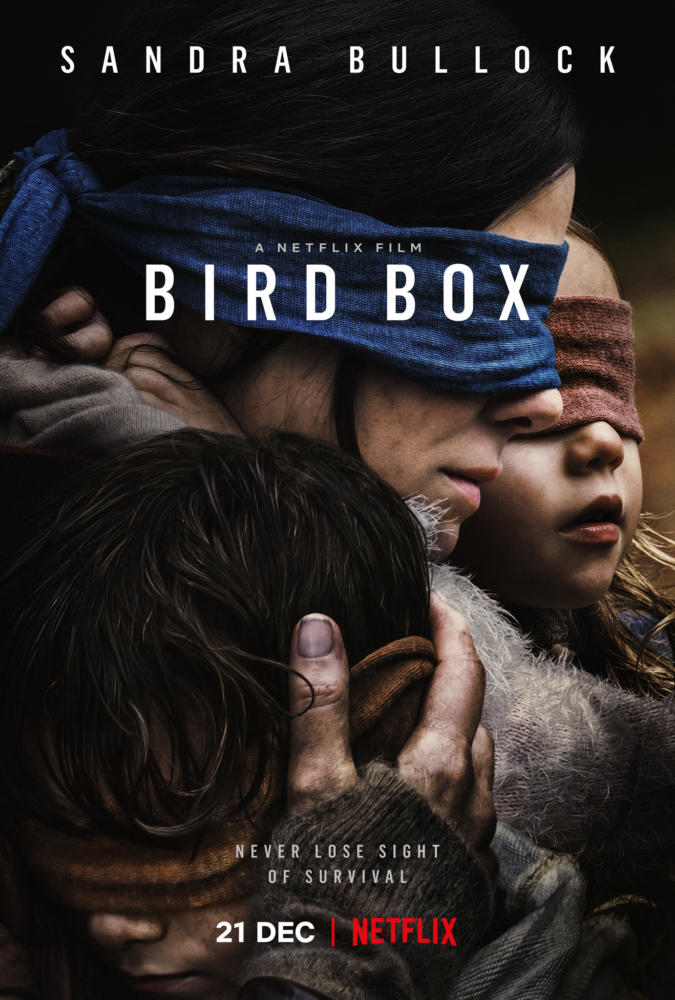 By: Francesca Best | Writer
January 17, 2o19
Released in late December, the hit film Bird Box took Netflix and the internet by storm, starting new, dangerous trends and keeping viewers in a state of suspense as they watched the new thriller with baited breath. Award-winning actress Sandra Bullock was a sensation, taking the lead and playing a single-mother of two, who navigated her way through an apocalyptic, dystopian world infested with invisible demonic entities. The creatures would trick the victims into looking at them before manifesting and showing the victim their worst nightmare, driving the victim to commit suicide.
Bullock's character transformed over time, starting out as strict and then developing into a loving mother at the end. The way her character developed was vital to the movie and helped to shape the plot from a story of survival to a story of how a mother would sacrifice anything to protect her children. For example, throughout most of the movie, Bullock called the children "boy" and "girl"as a way of not getting attached, but at the end when they were safe, Bullock finally gave them names. She named them after the people she knew who had fallen victims to the demonic creatures after sacrificing themselves to safe her and her children, showing how much her character had developed through the trials and tribulations of the story.
However, shortly after its release, the movie gained popularity and became a dangerous internet challenge known as #BirdBoxChallenge. Teens and adults alike took to social media, attempting to complete the blindfold-challenge in insane ways, ranging from tattoo artists giving people tattoos blindfolded, to teenagers driving cars wearing a blindfold, which ended up exactly how you'd expect it to. It became such an issue, that Netflix even had to issue an offical statement telling people to stop doing the challenge. They announced on their Twitter "Can't believe I have to say this, but: PLEASE DO NOT HURT YOURSELVES WITH THIS BIRD BOX CHALLENGE," and even gave another warning, "We don't know how this started, and we appreciate the love, but Boy and Girl have just one wish for 2019 and it is that you not end up in the hospital due to memes."
Bird Box isn't the typical jump scare that many sci-fi thrillers are, but the reaction from the public proves that straying from the norm can lead to success, and even a hashtag and internet sensation.