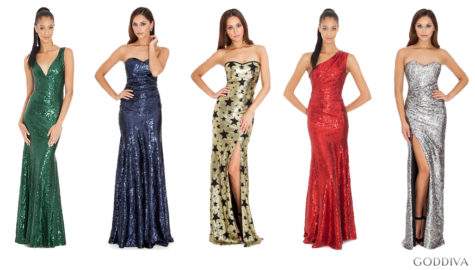 By: Hanna Farnsworth | Writer
January 18, 2019
Lulus.com – Lulus is great place to search for a formal dress this year. They have 2,558 different dresses available in many different styles. Also if you're looking for something specific, you can shop by color, style, occasion, and even trend.
Windsor – With 1,053 dresses online, Windsor is another great place to shop for formal as they offer tons of variety. They have stores nearby, as close as the Mission Viejo Mall and also a huge selection online. The dresses range from full-length to prom dresses and they also offer a casual dress filter for those considering a more laid back look.
Isabelle's Cabinet – Isabelle's Cabinet may ring a bell, and that's because we have our very own on Del Mar. While you do risk matching with another girl or two when you shop here, the dresses are trendy and offer good accessories and shoes to complete your formal look. Isabelle's also offers an online website, but the selection is smaller than in stores.
Tobi.com – Tobi is one of the best places to shop for formal at because they have a large variety, really good prices, and are constantly offering discounts and sales. Just by signing up, you can get 50% off your first order and the sale section always has some good choices. Tobi not only has good basic dresses that allow you to accessorize, they also carry cute skirts, rompers, matching sets, and jumpsuits.  
Revolve – Looking for something a little more unique and willing to pay a little more, well then Revolve is the place for you. While Revolve does offer lower priced dresses, they are on the slightly higher end of the spectrum. You may be paying a little extra, but the quality of their clothes is great and they have 7,810 dresses options to choose from.
Forever 21 – While Forever 21 may have become known for their oversized, overwhelming, and unorganized stores, they do offer some cute trendy options that are very reasonably priced. If you're willing to take the times to scavenge through the two stories at Mission Viejo mall, or search through the many pages online, you will find a cute inexpensive dress. Also Forever 21 is a great place to go to find really good, low-priced knockoffs.
Urban Outfitters – If you want a formal look that is trendy and in with the current looks, then go to Urban Outfitters. They offer dresses ranging in price and are always putting items on sale. Urban Outfitters has 449 dresses and rompers than you can sort through by casual, going out, party, and length on their website while they also have a store in the Irvine Spectrum where you can try you're top picks on. They offer dresses ranging in price and are always putting items on sale.