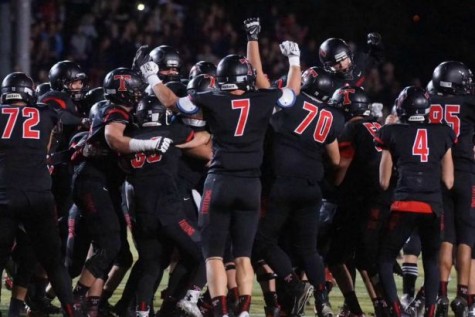 By Rhiana Neidermayer | Writer
December 2, 2014
SAN CLEMENTE – This Friday, December 5th, the San Clemente Triton football team (12-1) will square off against the Trabuco Hills Mustangs (9-4) for a shot at the CIF Championship title.
Played at Thalassa Stadium in San Clemente at 7:30 pm, it will be the second trip to the CIF Championships for the Tritons in the last four years. The game also marks the second time the two teams have met each other this season, only this time the stakes are changed from a league game in October, to a CIF Championship in December.
"I'm pumped to have the opportunity to play for the school and the whole city," said senior Sam Darnold. "We barely beat them the first time around and I think if we play hard and play smart, we can get them again."
In their first meeting, the Tritons pulled out a 42-35 victory over the Mustangs; a game which went back and forth all night long. Darnold for the Tritons and senior Jimmy Jacobs for the 'Stangs led the way for their respective teams at quarterback. Darnold finished the game passing for 168 yards and completing 14/18 passes for two touchdowns. Jacobs went 26/41 for 401 yards and four touchdowns as the Tritons struggled to contain their dynamic passing attack.
The Mustangs featured senior wide receivers Jacob Breeland (who is committed to Oregon) and Noah Thompson, who together earned over 250 yards on 18 receptions for two touchdowns.
The Tritons countered with a stacked rushing attack as senior Vlad Dzhabiyev rushed for 174 yards and one touchdown and sophomore Brandon Reaves added 72 yards and two touchdowns. In total, San Clemente rushed for 308 total yards and four touchdowns on the night.
If the Tritons are going to take the title this Friday night, they're going to have to follow a similar game plan – a strong ground game complimented by Darnold through the air. On defense, finding a way to slow down the Mustang's passing attack will be pivotal as Jacobs is sure to be looking for his wide outs early and often.
Team captains on defense, seniors Jake Russell and Riley Whimpey, are sure to be up to the task as they will look to continue their already strong seasons. A lock-down cover corner, Russell has 44 total tackles, with three interceptions and a team-high seven pass deflections. At middle linebacker, Whimpey has been a beast all over the field, leading the team with 159 total tackles and 12 tackles for a loss.
"I don't know where we would be without Jake and Riley on defense," Darnold said. "They've been huge for us all year. Kurt Crapo too – he's the unsung heart of our team."
Be sure to catch Sam, Jake, Riley, and Kurt Crapo on Friday night! It will prove to be a great game so be sure to come out and support the Tritons!