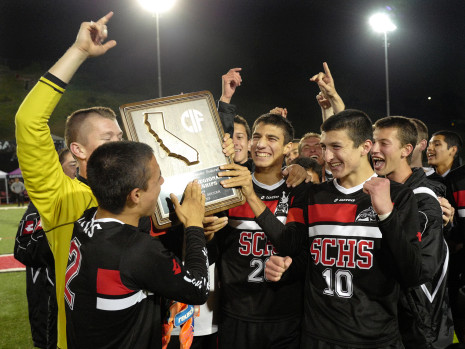 By: Hanna Farnsworth | Writer
March 7, 2019
On Saturday, March 2, the San Clemente High School boys' varsity soccer team faced the Cathedral phantoms in the D-1 State Championship game. Already coming off an undefeated CIF win, the boys were excited to leave it all out on the field in an attempt to garner the state championship title. Since the last time the team won a state title was in 2011, this year's varsity team wanted it more than ever and felt the pressure to perform. As they warmed up, the bleachers filled with students, parents, and friends willing to stand in the rain to cheer on the Tritons.
After talking to one of the team's star players, Koosha Jadbabaei, he explained the wave of emotions he felt after earning the title of state champs. When asked how he felt post game, Jadbabaei said, "It felt incredible. I've worked really hard all through the last four years to get to this point."
When Jadbabaei was asked how the team prepared for the big game and if anything was different leading up, he said, "training was no different than normal. We all have our superstitions and we kept everything, from the warm up to the pregame all the same, just like it was any other game, but we were extremely motivated in training before." While some players may start to feel nervous when put into a high pressure situation like this, Jadbabaei said that, "I didn't feel nervous for the most part; but when we got to the penalty shootout, I was really nervous."
Although the weather did not cooperate, bringing in the rain, the stands were still packed full of viewers and the boys stayed calm and collected. This composure eventually earned them the title of D-1 State Champions.With the motivation to end an eight year losing streak, the team was was so excited to take home the title. Jadbabaei mentioned how, "our team won league, CIF, and state while the 2011 team won state and CIF but did not win league, so we could be considered the best soccer team San Clemente high school has ever seen."
Overall, it was an incredibly successful season, and although the team will miss their talented seniors, they are excited to defend the state champion title next season.