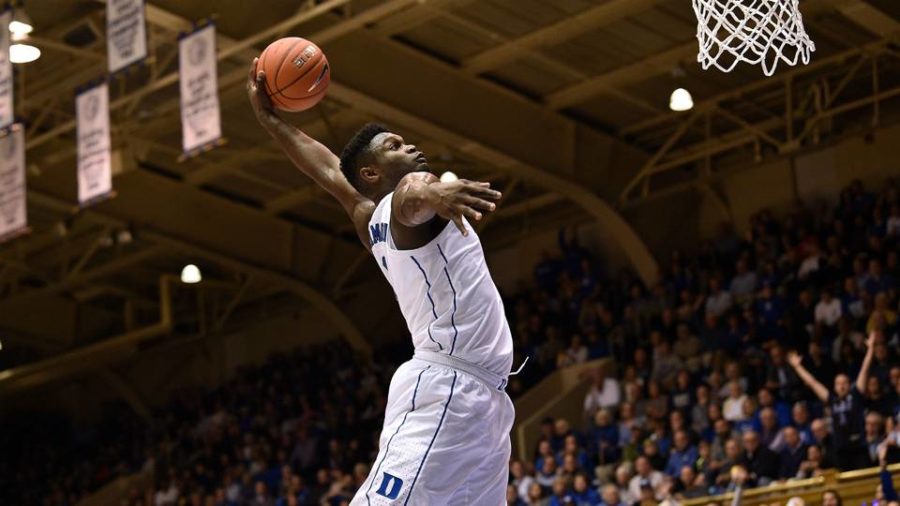 By: Sam Giacobello | Writer
March 21, 2019
March Madness is now upon us! Here's to three weeks of 64 teams fighting with all their hearts on the court, fans cheering hard for their favorite teams, and Americans all across the nation engaging in their own competitions predicting the tournament. There will be jubilation, heartbreak, and likely plenty of upsets; to put it in one word, madness. The First Four started the tournament over the last two days, with Fairleigh Dickinson, Belmont, North Dakota State, and Arizona State booking their spots in the 64-team field; today and tomorrow, those 64 teams will play to be one of the 32 participants that reach the Second Round of this year's madness. The next month will be crazy, but my eyes will be on one player in particular: Duke's Zion Williamson.
Williamson has averaged 22.1 points, 8.9 rebounds, and 2.1 assists per game this season. His impact has been incredible in the NCAA this season. One more thing – Duke's freshman star is only 18 years old.
Zion Williamson has all the makings of being a great basketball player, and almost the entire nation agrees. "He's built like a truck; he's 6'7″ and weighs over 280 pounds, he's fast, and he can jump high," senior Rian Harris said. "He's the best." In addition to his size, his basketball ability has seen him emerge as a superstar. There are few arguments against Williamson being the best player in NCAA basketball at the moment; he has put up incredible numbers for number-one seeded Duke this year, he is predicted to be the first pick in next year's NBA draft, and his injury is the only logical reason the Blue Devils finished third in the ACC (they went on to win the ACC tournament upon Williamson's return). In fact, Williamson's accomplishments have put him on track to be only the fifth player in history to join the Triple Ones Club.
The Triple Ones Club describes a player who wins AP Player of the Year, wins the NCAA title, and is selected first in the NBA draft. They must prove themselves to be the most talented basketball player, the best player of the year, and lead the best team in the nation. Although it seems like this feat would be achieved often, only four others have: Kareem Abdul-Jabbar in 1969, Bill Walton in 1973, David Thompson in 1975, and Anthony Davis in 2012. The NCAA title is the only award that still has a chance of avoiding Williamson, as there are no other players even being considered for the other spots. And, seeing Duke's performance with Zion Williamson on the court, I feel that the Blue Devils' name is already being engraved onto this year's trophy.
This isn't exactly a unique prediction, as the Blue Devils are an overwhelming favorite this year, but with the talent of Zion Williamson alongside RJ Barrett and debatably the best Blue Devils team in the school's history, I cannot see this team falling to anyone. In fact, Duke started this year 23-2 and was ranked No. 1 in the nation before Williamson was unavailable for six games, of which they lost three. In those two losses with Zion, Duke lost by a combined six points. The three losses without him? A combined 30 points. Many will say one player can't win a national championship, but when that player is as good as Zion Williamson, I don't see why not.
Duke starts off their NCAA tournament tomorrow at 4:10 PM PST against the North Dakota State Bison in what should be an easy win for Zion Williamson and the Blue Devils.