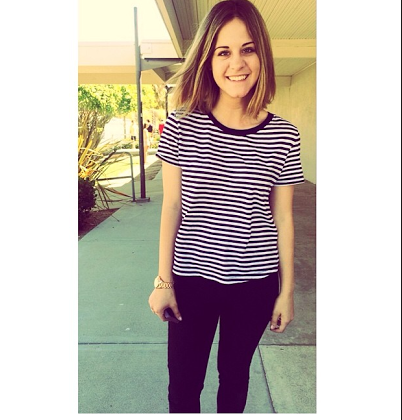 Bailey Peterson | Editor in Chief
December 17, 2014
Emily Murphy is a senior, International Baccalaureate diploma candidate and the All For One Club President. This past Thursday, we met for lunch so I could hear about her busy life with a typical Thursday in focus.
When asked how it was going, Murphy gave an exasperated reply,  "I have a lot going on right now. College applications are keeping me so busy and deadlines seem to be approaching faster than ever. I'm also tired, considering it's a good night if I get six hours of sleep."
Her day began around 6:00 am when she woke up to cram in some last minute studying.  She said she typically only gives herself about ten minutes to get ready before she is out the door and on her way!
Emily continued to give me the lowdown on her schedule; she says she left for school at 7:15 to start her Thursday that consists of seven IB classes. Once her fourth period, 20th Century Latin America, ends at 12:17, she usually runs to get a juice from Hanson's or tea from Ellie's Table before her Theory of Knowledge (TOK) class begins at 1:00 p.m.
After getting a mental workout from deep thinking and journaling at TOK, she heads over to IB dance to receive the physical component of her workout. She has an hour in between these classes and this coveted sixty minutes of free time is often spent at Starbucks where she can study and power up with Passion Iced Tea Lemonade.
Usually she ends dance around 7:45 or 8:00 p.m. and afterwards she rushes home. She says taping study guides to the outside of her shower allow her to not miss a minute of potential study time. Later, she eats her dinner while reading Their Eyes Were Watching God for her IB Literature class.
Finally around 11:30 she is able to climb into bed but does not go to sleep until 12:30. That hour  is usually spent studying for her IB Biology class, which she describes as her "most difficult and time consuming course." The key adjectives she used to describe the class were "death", "drowning", "hate", and "why".
Murphy said she has panic attacks three times early in the week but by Friday her anxieties fade away into a general acceptance that she will fail her Biology test.
"At least I have Michael to fail with me. You know what they always say, 'friends who fail together, stay together'. And I hope we do… stay together."
She said she would not be able to handle the grueling International Baccalaureate Diploma if it were not for her Spanish-speaking amigo and senior Michael Hamming.
"He's basically my rock when it gets tough. We have gotten so close. I just hope he knows how much I appreciate his friendship, I don't know what I would do without that kid."
The one thing she likes about her busy class load: "It doesn't leave me much time to think about how tired I am."
Emily is a busy girl splitting her time between volunteer work at the hospital, study time, and friends. At the end of the day, Emily said she "loves (her) life, seven class schedule and all, and would not trade it for the world."