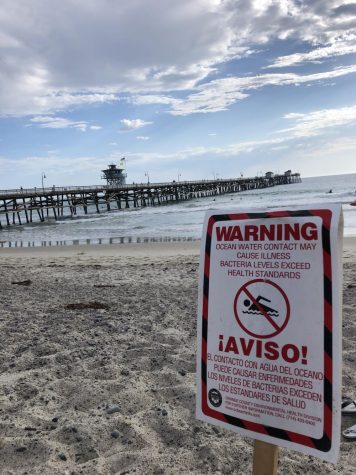 By: Jack Harris | Writer
September 10, 2019
The San Clemente Pier has served as a local attraction since 1928. Today, hundreds of people visit the pier to surf, enjoy the beach, or take a stroll to appreciate the stunning view. However, most of the people who visit the pier do not know about one simple yet devastating fact: the pier is the most polluted beach in California. 
Recieving an "F" on Beach Report Card, the website gathers its data on polluted beaches based off of concentration levels of potentially harmful bacteria.  According to the recent report, low-grade water quality comes from storm drains located directly under the pier. Waste and sewer from neighborhoods above the pier funnel into these drains. The fecal matter coming from the large amounts of birds in the area also contributors to the  high levels of bacteria in the water. 
"The water was brown when I surfed last weekend," local surfer and student at San Clemente High School, Aidan Giacobello said. "It smelled horrible." There have also been reports of staph infections and other illnesses that could be attributed to the water quality. 
Ocean pollution has surged in Southern California this year because of the unusually wet winter the area experienced. The numerous fires that occurred in the past year also add to the polluted waters. The severe drought that plagued California for several years actually helped water quality due to runoff levels being low, but now they are at an all time high. 
So far a clear plan to remedy the situation has not been proposed by the city or other agencies such as the Beach Report Card. There is no exact cause that has been identified for the poor water quality, but certain factors can be attributed to the high bacteria levels.
However, the poor water quality does not stop local surfers when the waves are good. When asked whether he would still go out knowing the pier has the most polluted waters in California, San Clemente surfer Wyatt Lalonde said, "For sure, nothing bad has happened to me yet, and I think I drink enough Vitamin C so I will be fine."