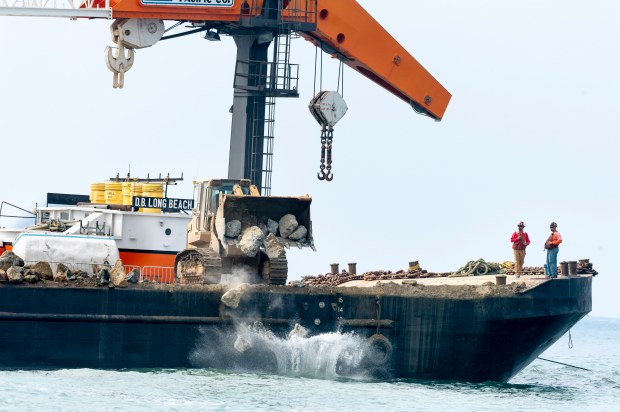 By: Tessa Van Winkle and Jane Moran | Writers
September 10, 2019
If you have recently visited the beaches of San Clemente, California, you would have noticed a barge about half a mile off the coastline. The barge is currently expanding the world's largest artificial reef from 174 acres to 384 acres and is progressively moving north from San Clemente to Dana Point. It was named the Wheeler North Reef after Dr. Wheeler North, a notable biological oceanologist and marine ecologist, and is predicted to cost a whopping $20 million when finished.
This project is being completed by Southern California Edison (SCE) with the goal of sustaining a giant kelp forest, since the last one was killed off due to warm water released by the San Onofre Nuclear Power Plant. The man-made reef is hoped to bring about fish and other marine life, which will ultimately help to keep the environment flourishing and the fishermen happy.
San Clemente is known by many for having the best surf breaks in Southern California. When construction on the Wheeler North Reef began, people in the surf community began to raise concerns for the reef's impact on waves. Local surfer and senior at San Clemente High School, Dana Shany, seems to not be as distressed with the issue at hand, as she says, "I don't believe the man made reef will affect the waves too bad, since they are dropping the reef at a very deep location when the waves are coming from far they will still not hit the reef." The high schooler also claims, "They will keep building up until reaching the sand bar by the surf breaks." Some were concerned with how this would change the waves but regular surfers believe it shouldn't because of its depth and off shore distance.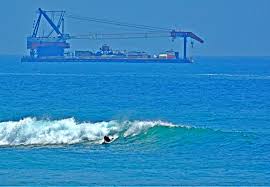 As for the environmental concerns this will bring, San Clemente senior, President of Surfrider foundation at SCHS, Kristin Gabriel states, "I believe most people's concerns are over how it will affect waves. But, I think that the artificial reef will increase biodiversity and reverse some of the negative effects of Edison's water cooling system." Although her opinions do not align with actual Surfrider Foundation, she thinks it will only have positive outcomes. Surfrider Foundation mainly dwells on how the reef will be affecting the waves and swells. Of course no project like this comes without a price tag either, "The California Commission unanimously approved the $20 million, 210 acre reef"(Orange County Register). 
In the end, in spite of the costs, the citizens of San Clemente can be hopeful that this expansion of the already present reef will have nothing but positive effects, on shore as well as offshore.