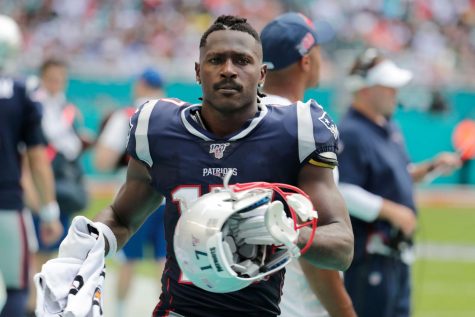 By: JP Hefft | Sports Editor
September 19, 2019
On September 7, 2019, Antonio Brown decided to join powers with the New England Patriots and leave all the controversy and turmoil behind in Oakland. After what he thought was the end, Britney Taylor, a former trainer for Brown, stepped forward and accused him of rape and sexual assault. 
Even before this accusation, Brown has been surrounded with a plethora of disputes between his former team, the Oakland Raiders. After joining them in the off season before the 2019-2020 season, he was released after a series of disagreements concerning his helmet and a cryotherapy injury to his feet. 
"Antonio Brown? More like Antonio Clown," Raiders fan Jackson Clark said after Brown signed with the Patriots. "In all seriousness, he's a great player, but that much drama shouldn't be in the NFL. "
Despite the clear off-field distractions, Brown strapped on the pads for his first game with the New England Patriots, Sunday, September 15, 2019. He showed that he is still top tier wide receiver by hauling in four receptions for 56 yards and a touchdown in the 43-0 win against the Dolphins. 
Although Brown is still a force on the field, his outside distractions have filled up the news with recent updates. 
"Source confirms that the NFL spent 10 hours interviewing the accuser of Antonio Brown, Britney Taylor," Sports Illustrated Journalist Albert Breer said. The seriousness and integrity of these allegations are still to be discovered, but as of now, Brown will continue to participate in games with the Patriots. 
The lawsuit states that Brown allegedly sexually abused Taylor on three different instances, after Brown hired Taylor as his personal trainer. She gave evidence in the form of text messages from Brown, where he calls her a "weak bitch." Other than this, all of her story is based on her personal account of the incident. 
On the other hand, information has surfaced that suggests the two were in a consensual personal relationship, meaning any sexual activity was consensual. Taylor supposedly reached out to Brown in hopes of receiving an investment for a business, but Brown refused. Also, before the 2018 NFL season, she contacted Brown and offered to train him again. 
Brown's lawyer Darren Heitner said, "He will pursue all legal remedies to not only clear his name, but also to protect other professional athletes against false accusations". 
Unfortunately, this situation has become a regular thing in professional sports, and Brown's efforts to try and protect his peers from false accusations truly show his character as a person. 
Last Friday, Brown was released by the Patriots because of his recent allegations. He spent a total of eleven days with the organization and played one game. After being released by two teams in a matter of two months, Brown decided to take a step away from football and the NFL as a whole. He plans to go back to Central Michigan University to continue his studies, and his future as the football superstar we all know him as is uncertain for now.