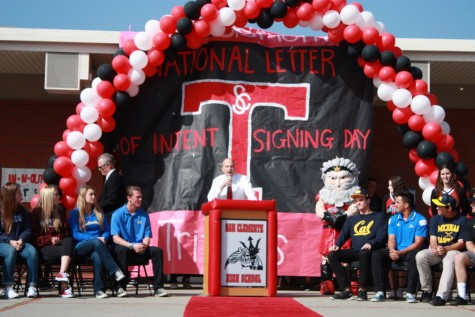 By Bailey Peterson | Editor in Chief
February 13, 2015
February 4th at San Clemente High School was an exciting and memorable day for Triton athletes.
Joined by their family, friends, and classmates, twenty-six of our own student athletes signed national letter of intents, formally committing to the college of their choice.
On National Signing Day, San Clemente High School had the most student athletes in the district commit  to play collegiate athletics.
The signing day ceremony recognized male and female volleyball, baseball, soccer, swim, football, softball, golf, and water polo stars. Principal Halt commended the twenty-six Tritons not only for their achievement in sports, but also for their "academic success".
San Clemente High School's 2015 recruiting class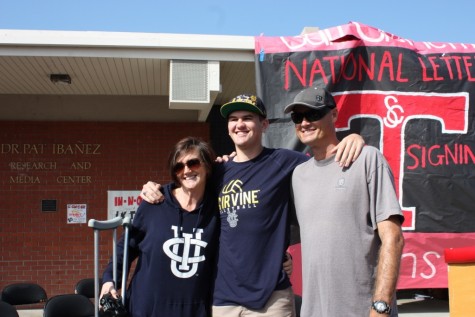 demonstrated their talents on and off the field (not to exclude the pool or court) with many school club participants and AP/IB students.
Although many of the athletes have known where they were going for months, February 4th "made it official and took a lot of the stress out of it" said senior and USF soccer commit Santiago DiGiuseppe.
The twenty-six committed Tritons are venturing to schools all across the country, University of Chicago softball senior commit Jordyne Prussak said she is "excited for a change of scenery and ready to embrace a totally new cultural."
No matter which college team these students will be playing for next year, they are and always will be Tritons.
Kolby Allard – Baseball – UCLA
Lucas Herbert – Baseball – UCLA
Will Tribucher – Baseball – Michigan
Trevor Beard – Baseball – Purdue
Royce Jacobsen – Baseball – University of Hawaii, Hilo
Riley Whimpey – Football – Boise State
Sam Darnold – Football – USC
Chase Hamming – Water Polo – UC Berkeley
Emily Gough – Swim – Seattle University
Alexander Cooper – Golf – San Jose State
Sammy Schwartz – Golf – University of Hawaii, Manoa
Max Lepley – Lacrosse – Whittier College
Jack Renard – Lacrosse – US Merchant Marine Academy
Santiago DiGiuseppe – Soccer – University of San Francisco
Hailey Laub – Soccer – Air Force Academy
Brittany Hundley – Soccer – Jacksonville University
Cole Martinez – Soccer – UCLA
Blayne Martinez – Soccer -UCLA
Sophia Spralja – Soccer – Sarah Lawrence College
Kelsey Horton – Softball – New Mexico State
Lauren Kane – Softball – University of San Diego
Jordyne Prussak – Softball – University of Chicago
Brandon Hopper – Volleyball – UC Santa Barbara
Matt August – Volleyball – UC Irvine
Natalie Knauf – Volleyball – Northwestern Nazarene
Rebeca Dunne – Sand Volleyball – USC