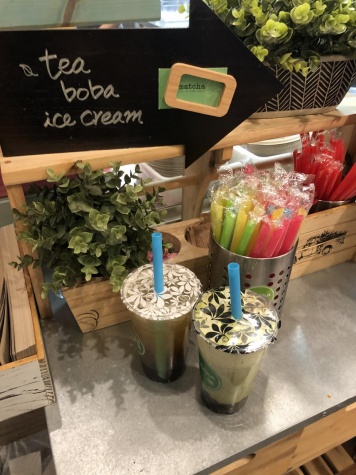 By: Piper Biolos | Writer
October 24, 2019
For the past couple of years, teens have been obsessed with the fast growing drink trend: boba. But what is boba exactly?
Boba is small, sweet, chewy spheres made out of tapioca, which is a gluten free starch extracted from the cassava plant. One of the best things about boba is that you can add it to almost any drink, whether you choose coffee, tea, or milkshakes. About a year ago, Matcha Tea and Cream opened up on Pico, near Board and Brew, hoping to catch the attention of the San Clemente students just down the road, with their delicious boba.
Matcha is a little dessert bar that serves a great variety of boba drinks and matcha soft-serve ice cream. While there are a lot of places like this further north in Orange County, like Irvine and Mission Viejo, it's usually pretty hard to find these kinds of desserts in a small town like San Clemente. It's also worth noting that this location shares a space with Poke Tiki, which is a great place to get a delicious and filling poke bowl right before you enjoy a dessert.
"They have very good healthy food and their drinks always make my day better!" San Clemente High School senior Izzy Sanchez said.
During my visit, I ordered the Green tea with boba, which was sweet, but very enjoyable. The employees at Matcha make their drinks behind a glass wall, which shows their honesty, and confidence that their customers will be happy with how their drink comes out.
Matcha is always a good spot for a quick treat on the go. The lines are usually short, and the menu is simple and not so overwhelming to choose from. Their employees are quick and always friendly,and their kitchen is always clean. The flavors are always changing, and their prices are really hard to beat, which is part of the reason that the high schoolers love it so much.
"I love Matcha because there are a lot of different flavors from milk teas to regular teas," senior Alexi Dragotto said. "It's also very affordable!"
When asked what their most popular drink is at the moment, they answered the Summer Passion tea with boba.
Finally, we have both a delicious poke and matcha place that is generous with portions and is very reasonably priced where you don't walk away not feeling satisfied. The customer service is great, and you will not be disappointed! If you ever have a craving for boba or poke, go visit our local Matcha restaurant.