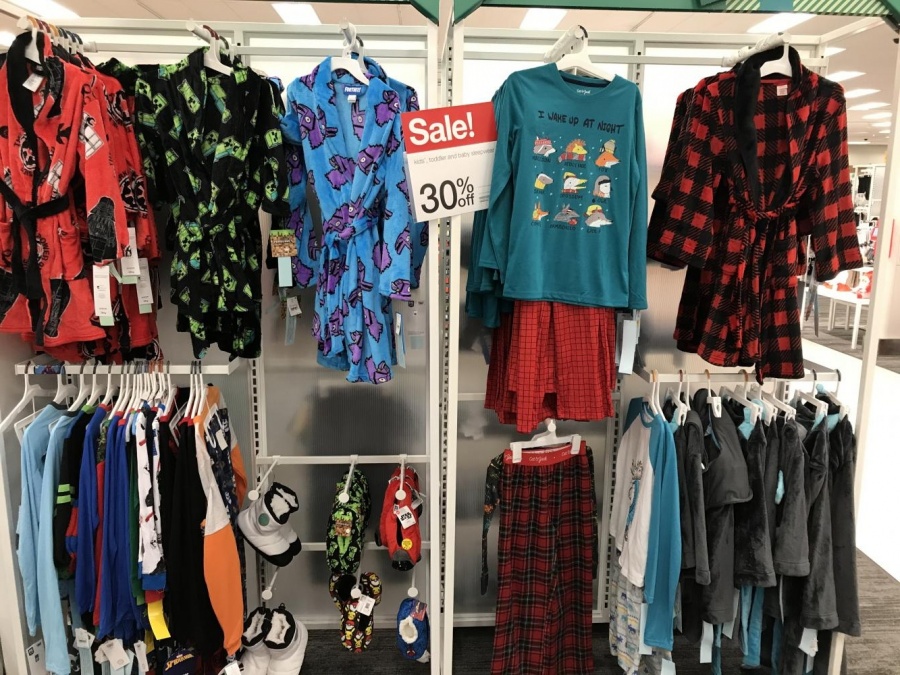 By: Makena Viera | Writer
December 11, 2019
Wait, 2019 is almost over?! Yep, and Christmas is coming up right around the corner. Finding gifts that suit family or friends always seems like a burden when the holidays come around. As trends change, teenagers become more and more picky about what they hope to unwrap on Christmas morning. So, here are ten easy gift ideas your teenager hopefully won't return this year:
Pajamas/sweatpants:

Lazy teenagers spend a lot of time in pajamas. However, as the weather gets colder, the current worn out high-water pajama pants don't cut it. A cute set of Christmas pajamas or casual sweatpants is practical for late night food runs, relaxing, or sleeping comfortably no matter what time of the year. 

Disposable camera:

Going on a family trip this Christmas break? Disposable cameras are a great way to capture the moment without going on your phone. Nowadays cameras are expensive. Losing a $10 disposable camera from Walmart on your trip is not nearly as bad as losing a $300 one. One quick snap is all it takes. Once they're developed, they are ready to put in a nice frame, hang on walls, or give to a friend as a thoughtful gift. 

Waffle Maker:

Who doesn't like waffles? Now, after everything you do, your kid will hopefully be inspired to cook you a nice breakfast. "A waffle maker would actually be super cool to get," San Clemente High School junior Ella French said. "Then I could actually learn how to cook and be excited to eat breakfast in the morning."

Candles:

Coming in a variety of designs and fragrances, scented candles are a perfect gift for girls or boys. Whether hosting friends or in need of relaxation while doing homework, candles are long lasting and extremely useful. (Caution: be aware who you are giving these to. For the more forgetful ones, battery operated candles may be a safer bet!)

Socks:

There's no way your kids can complain if they receive something they will use everyday. For boys, patterned Stance socks are the most popular. And what girl doesn't like fuzzy socks? There's a style and print for everyone! It's a win-win situation because now your kids will hopefully have a good enough reason to trash their old, holey socks.

Diverse patterned Stance socks for boys (Photo by: Noah Canfield)

Sweatshirts:

No one can ever have too many sweatshirts, it's impossible. Between the comfort and warmth, there's a reason girls always seem to take their boyfriend's hoodies.
Here are some smaller stocking stuffer ideas:
Chapstick:

Nothing is worse than chapped lips, but somehow, it always seems as though these little life savers get lost. Thus backups are always essential, especially as the weather gets drier.

 Jewelry:

Teenage girls love dainty jewelry. A simple ring, necklace, or bracelet is all it takes to complete the perfect outfit.

Perfume/cologne:

Scent is often the first thing people notice. However, luxury fragrances are often not on every teen's budget as a necessity. Teens, with their jam-packed schedules, often don't have time to stop at home and shower before every event. Therefore, a small travel size perfume or cologne is a perfect on the go item to keep in their car.

Gift cards/cash:

As a last resort, everyone loves money, especially broke High School students. "I have to get so many people gifts but I never know what to get them," SCHS junior Natalie Bothwell said. "I feel like you can never go wrong with gift cards. My favorite is from Isabelle's Cabinet on Del Mar."

Variety of gift cards at the local grocery store (Photo by: Noah Canfield)
P.S. If you are willing to spend more than $30, a Hydroflask will win any teenager's heart. Whether for sports or simply staying hydrated, these insulated stainless steel water bottles can keep drinks hot or cold all day long.
Best of luck this Christmas!