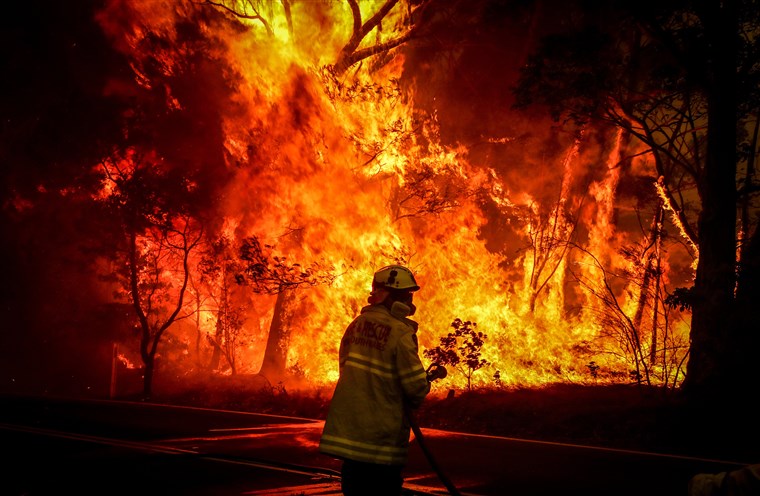 By: Piper Biolos | Writer
January 14, 2020
An early kickoff to fire season in Australian states of Queensland and New South Wales started after a long, intense drought in September 2019, and has continued to spread throughout the continent, seeming to be the worst wildfires seen in decades. Over 100 separate fires have devastated Australia's southeast coast, killing at least 28 people nationwide, and has shown no signs of stopping. In early December, the smoke was so heavy in Sydney, one of Australia's biggest cities, that the air quality measured 11 times the "hazardous" level.
Natural causes like lightning in drought-affected forests have been the most common culprit, but many believe humans are also to blame. The New South Wales police force has charged more than 20 people with purposefully starting bushfires, and have taken legal actions against 183 people for offenses related to the fires since November 2019. Australia experienced the worst drought in years and hit record-high temperatures in a heatwave this past December.
New South Wales was the state hit hardest, with almost 2,000 homes destroyed so far, and over 650 damaged. In total, over 17.9 million acres have been burned across Australia's six states, with New South Wales taking 12.1 million of those acres burned.
Not only have the Australian people been heavily affected by these terrible fires, but almost half a billion animals have been affected, with millions dead in New South Wales. Throughout the nation, ecologists believe the number could be up to one billion. Almost a third of the Koala population in NSW have been killed, along with a third of their habitat. Some species, including some frogs and birds, could become extinct, due to their low populations if they were to be hit by the fires.
"One billion animals are now dead, people's houses are gone, and multiple lives are lost," San Clemente High School senior Jack Hopkins said. "The worst part is no one is doing anything about it." Hopkins feels as if the general public is disregarding the massive dilemma at hand, not understanding the dire effects it may have on the Australian ecosystem.
There are many different ways we can help Australia through these fires and these hard times. There are over 2,000 firefighters working on the ground in NSW alone, and more support is on the way from the United States, Canada, and New Zealand. Donations can be made to several organizations working toward victim relief and recovery, including the Australian Red Cross, Salvation Army Australia, and the NSW Rural Fire Service. We can also help the animal population by giving to wildlife rescue and treatment groups like WIRES and Currumbin Wildlife Hospital.