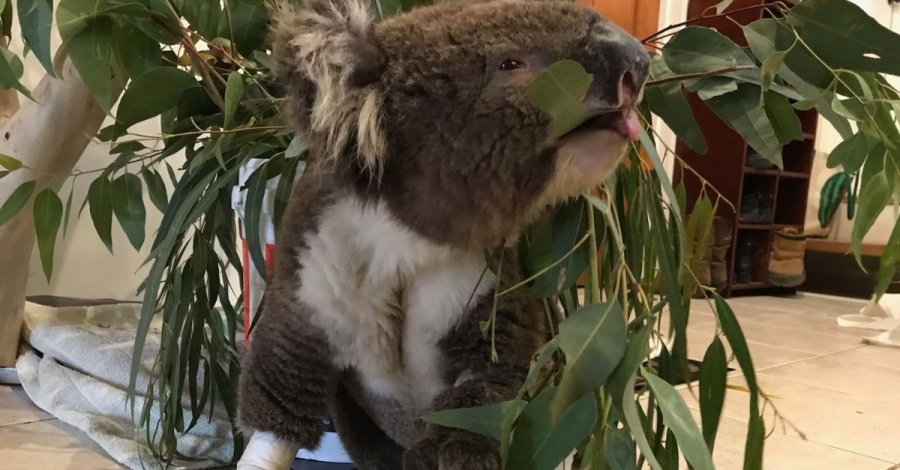 By Sosie Casteel | Writer
January 24, 2020
World: meet Billy. He's a koala with four burnt paws.
On January 6, Billy was retrieved from one of the many bush fires that recently consumed millions of acres of land in Australia. Members of 1300Koalaz, Adam and Lucy Francis, took Billy in and set about to nursing him back to health. The couple instantly fell in love with Billy's gentle nature and adorable features. Because he was unable to climb, the couple built Billy a makeshift enclosure and have been changing his bandages regularly to help heal the severe burns on his paws.
Billy is one of the few lucky survivors of the devastating Australian wildfires. Specialists estimate that over a million endangered animals have died in the fires or were made homeless. In addition to thousands of koalas that have been affected, kangaroos, cockatoos, kookaburras, and wallabies have also suffered major losses over the last few weeks. Australia, the former animal sanctuary, has become uninhabitable and lethal to many endangered species. San Clemente High School sophomore Aidan Bennett said "Koalas are dying and that's no bueno." 
Those who are able to escape the flames have brave firemen to thank for sacrificing their lives while suppressing the fires.  "I think it's really sad," San Clemente High School senior Matin Shams said. "But all the videos of people rescuing animals are just awesome."
Dry lightning in December started some of the Australian bushfires, however human arsonists are also largely responsible for the destruction. At least 24 people have been convicted of deliberate arson and over 180 people have had legal action taken against them due to their responsibility for the fires since November 2019. 
The fires have not only killed off thousands of endangered animals but over 30 humans as well. Around three thousand families have lost their homes to the fires and the smoke has made the air quality up to 11 times higher than the "hazardous level." The New South Wales region of Australia has been affected the most by the fires. As of today, the fires have been mostly contained, however multiple fires still maintain their intensity despite recent rainfall in the regions.
Billy is expected to recover, however many koalas who survived suffered third degree burns and may never heal. The bushfires have not only killed humans and burned human homes, but endangered animals and their habitats as well.