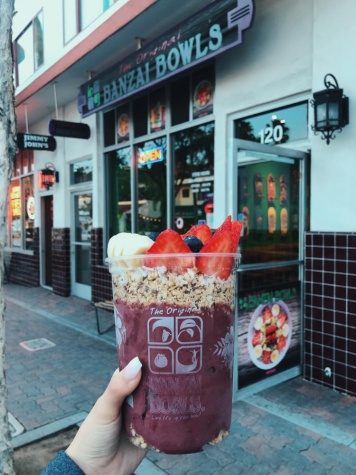 By Bree Williams | Photographer
January 31, 2020
If you're new to San Clemente, or just looking for something different to try, a popular food choice of locals is the açaí bowl. While there are many great options all around the city, as it is a best selling food item, the most qualified for making the best tasting bowls is Banzai Bowl.
At the top of Del Mar, it's a perfect choice after spending the day at the beach or around the shops with friends. The environment inside is welcoming, interior artistically crafted, and workers extremely friendly.
 "There are so many good options, but I'd have to say my favorite bowl is the Maui Sunrise." San Clemente High School junior Gigi Russell said.
And after talking to workers, it seems that the Maui Sunrise is the most popular bowl for locals due to its array of fruits and coconut strips. They do, however, recommend trying their "OG Bowl" if your new to the store.

So if your looking to try a new healthy meal, açaí bowls from Banzai Bowls are the perfect candidate; not to mention great for getting a taste of the culture of San Clemente, and the locals favorite options.