Boys team in starting position before the whistle blows, ready to run and grab the dodge balls lined up in the center (Photo by: Jason Watkins)
Makena Viera | Writer
March 3, 2020
San Clemente High School's annual dodgeball tournament is up and running! Starting this past Monday, March 22nd, six teams competed with hopes of moving on to the next round. Taking place in the Main Gym every lunch for the next two weeks, make sure to stop by so you don't miss out on the fun. 
There are a total of 32 teams competing for the first place spot. Each day, three games are played. They typically average about five minutes but can go shorter or longer depending on the intensity.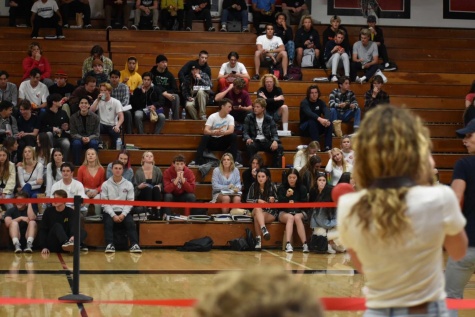 The tournament follows simple single elimination rules, meaning if you lose, you're out. On Monday, team Trash beat Curry K, Baseball & Biff beat Ewoks, and Wakanda automatically won because Balls of Steel forfeited. The victors are on to the next round which will take place next Monday on the 9th.
"I watched the tournament this past Monday, and I never realized how intense they actually got," said San Clemente High School Junior Jessica Carrera. "My favorite part is when they all start sprinting in the beginning to try to get the balls in the middle because sometimes one team will get all of them, but the other team will retaliate with insane dodges."
During the matches, to add to the suspense and simply update the audience on who got out, senior ASB members J.J. Peters and Spencer Normandin serve as commentators. ASB director Mr. Reid is the referee. 
Here is the schedule for the rest of the week:
Thursday, March 4
Team Africa vs. The Lemmings
Drootifulgorcs vs. Z Bags
Group vs. The Puppies
Friday, March 5
CIF Champs vs. The Sweat Shop
Hi Curry vs. The Ridiculous 6 and Mavick
Talega Moms vs. Dodgeball Degenerotes
"Dodgeball gets me so hyped!" SCHS junior Luke Huston said. "I'm really sad I didn't' sign up this year, but it'll be exciting to see which teams make it to the finals. My favorite part is hearing all the team names because they're so random but really creative and funny at the same time."
The final will take place in two weeks on Tuesday, March 17. Don't forget to come support your favorite teams at lunch!