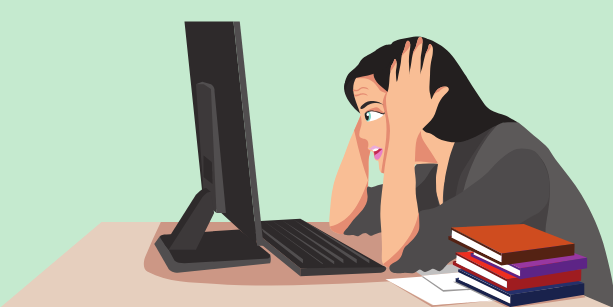 By Donya Nadjie | Writer & Amy Parr | News Editor
September 10, 2020
It's 1:05 in the afternoon on a Friday. All you want to do is crawl up in bed after a long day of distance learning, but you still have to attend your last Zoom lecture of the day. You reflect back on last fall, and think that you couldn't have possibly been this worn out. Is it possible that online school is more exhausting than regular school?
Distance learning has changed dramatically since the last school year, and many are wondering if these changes are doing more harm than good. Instead of doing their online work on their own time like last semester, students are now required to report to Google Meets or Zoom for every class period. 
Being online all day is new to all of us, and unfortunately, the transition hasn't been easy. "Staring at a screen all day makes my eyes hurt," junior Madeline McDonald said. Our lessons are online, our homework is online, and the amount of screen time is bound to take its toll on students. 
Being on Zoom just isn't the same classroom environment that our students are used to.  Freshman Sarah Ahmadi said that she "usually feel[s] more awake by first period" when she's at school, compared to when she does online school. It can be hard to wake up completely when you're still in your bedroom, a room specifically designated for sleeping and relaxing. 
In a typical classroom setting, students and teachers both benefit from the amount of energy in the room. Sitting in front of a computer while staring blankly at thirty faces on a screen doesn't exactly have the same effect. "In a room full of people, you feed off everyone's energy, and that's hard to replicate over Zoom," McDonald said. It's no one's fault, but learning online simply isn't as stimulating as learning in a classroom.
Academically, Zoom meetings are exhausting, but the technical side of learning also comes with its own set of challenges. Many students have experienced difficulties submitting assignments to Canvas, and students are frequently kicked off of Google Meets for seemingly no reason. McDonald feels that her education is being compromised by technology; she said that her "computer [sometimes] glitches when teachers say something important." Everyone's Wi-Fi is bound to be slow sometimes, and everyone's computer will crash at some point, which is why Zoom calls and Google Meets are unreliable tools to convey necessary information to students. 
There is no easy solution to this problem. Teachers have had to learn entirely new teaching strategies in a matter of months, and students must be patient and forgiving because they are under incredible amounts of stress. "The teachers do a really good job at keeping everything organized," Ahmadi said, "which is impressive considering that they were introduced to Canvas only a few weeks before school started." Mcdonald agreed. "Teachers have adapted well [and are] supplying us with everything we need to be successful," she said.
Throughout many of the obstacles both students and teachers face, everyone is trying their best to work with what they have. Online school may take some time to get used to, but with all the teachers' effort to make it a simple and effective experience, students will become more comfortable while learning. However, learning through a screen will never replace face-to-face interaction with teachers and other students.