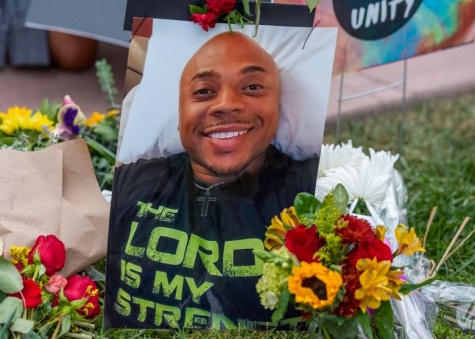 By Gisele Brandt | Head Editor
September 24, 2020
Kurt Andras Reinhold, a homeless Black man, was shot and killed by police officers on September 23, 2020 on El Camino Real in front of Hotel Miramar at approximately 1:15 in the afternoon. 
The two officers involved in the shooting were dispatched to San Clemente as a part of the homeless outreach program. According to Sheriff Don Barnes, the purpose of this team is to make contact with homeless civilians and to offer them social services. The reason for the sheriffs' altercation with Reinhold remains unclear because the Orange County Sheriff's Department has announced that they cannot comment on that information; however, many witnesses claim that the police were trying to detain Reinhold for jaywalking.
When the police approached Reinhold, he appeared to antagonize the officers by walking towards them and shouting; however, the police failed to de-escalate the situation. Reinhold can be heard asking the officers to "stop touching me," before getting tackled to the ground by the two police officers. They struggled on the ground, and then a police officer yelled that Reinhold "[had] his gun," and immediately after, the two fatal gunshots were fired.
Many people have begun to question the tactics used by the sheriffs in this altercation. "The man was unarmed," sophomore Ava Miller said. "I still think Reinhold should not be killed in a circumstance like this. Even if he was truly causing problems, he should have been handcuffed. Police training should not lead to killing someone as an immediate response." In the press release from Sheriff Don Barnes, he claimed that the officers were specifically trained in de-escalation tactics and crisis intervention as members of the homeless liaison task force. This has led to larger questions: if the officers were trained in de-escalation, why did they tackle Reinhold and resort to lethal force—and was his race a factor?
OCSD Sgt. Dennis Breckner announced that the Orange County District Attorney's office and an internal OCSD administrative investigation are underway and that neither are considering race as a factor contributing to Reinhold's death. Some students agreed with this determination by the officials conducting the investigation. "Reinhold was refusing to comply…the incident was not racially motivated," SCHS senior Ethan Coleman said. Coleman maintained that "every officer should resort to his or her taser before feeling the need to use a firearm, however, when an officer feels like his or her life is threatened…the officer has a right to defend themselves." Miller disagreed with the OCDA's decision not to consider race, tying the incident back to the greater Black Lives Matter Movement because "unfortunately, this man was African American and some police, like yesterday, are not treating African Americans how they would treat white people; it is cruel and inhumane and terrifying that racism is causing people to die in America."
Community outrage over Reinhold's death sparked protests on Thursday afternoon. Approximately 80 people attended the peaceful protests and four were arrested for blocking the street. The Black Lives Matter protesters were harassed by Trump 2020 and blue lives matter supporters throughout the duration of their protest. City officials also decided to implement a 9:00 p.m. curfew fearing violent late night protests. 
Supporters of the Black Lives Matter movement want meaningful policy reform, and many are demanding that the police be defunded. "I would like to see real changes," said Miller, "posting these events on social media makes these heartbreaking tragedies look trendy and cool for people to post. I do believe informing people is positive, but just posting on social media without taking direct action for the issue at hand is ineffective and hypocritical."