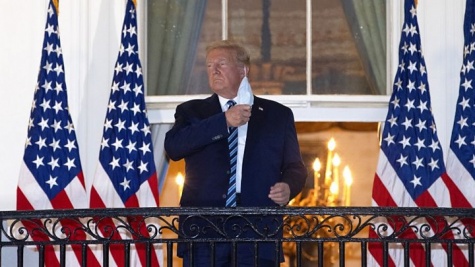 By Harrison York | Head Editor
October 7, 2020
President Donald Trump announced early last Friday that he and the First Lady had tested positive for COVID-19. Several other officials who work closely with the president have also announced testing positive for the virus, including Wisconsin senator Ron Johnson on Saturday and press secretary Kayleigh McEnany on Monday. 
The White House has had 34 cases as of Tuesday night following Hope Hicks' positive test on Thursday, October 1. As counselor to the president, she traveled with him to Cleveland for last Tuesday's debate as well as Minnesota for a campaign rally the next day.
After his initial announcement, President Trump was flown to Walter Reed National Military Medical Center for close monitoring "out of an abundance of caution." There, he received a single dose of Regeneron's antibody cocktail along with zinc, melatonin, famotidine, Vitamin D, and daily aspirin.
Both the President and First Lady have experienced mild symptoms: fever, nasal congestion, cough, and fatigue. On two occasions President Trump reportedly had to receive supplemental oxygen as his blood oxygen levels dropped, though these saturation levels stabilized. He took dexamethasone, a steroid recommended for patients who experience severe forms of the coronavirus, after this second occurrence.
Saturday, the President's physician, Navy Commander Dr. Sean Conley, reported that the President's symptoms are improving. "While not yet out of the woods," Conley said, "the team remains cautiously optimistic."
"I just want to tell you that I'm starting to feel good," Trump said, echoing the message. "We'll be seeing what happens over those next couple of days."
President Trump left the hospital briefly on Sunday so that he could wave to his supporters from the back of an SUV. While facing criticism from the left, this outing allowed the President to show the people that he was holding up against the virus and continuing to recover. All of the occupants in the vehicle wore masks.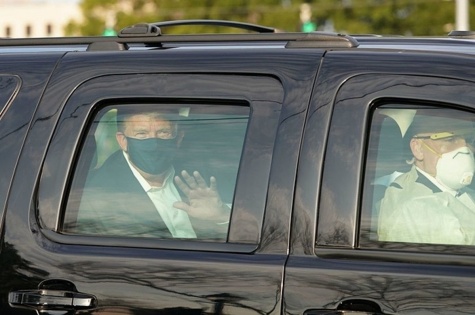 Monday evening saw the President return to the White House. Having spent three nights at Walter Reed, Conley and his team said that Trump's clinical status warrants his "safe return home, where he'll be surrounded by world-class medical care."
Still, the team is waiting until the coming Monday before they "take that final deep sigh of relief," and health experts across the nation are questioning how severe Trump's case really was. Many of these experts believe that the President was, at some point, in a worse condition than the medical team let on.
Despite these remaining questions, however, President Trump, since returning to the White House, has shown "no symptoms," according to Conley. 
"Trump is back in office within a few days," junior Daniel Lo said. "After such a quick recovery, this will definitely strengthen his campaign." Lo added that, even while "being an older man, 74 years old," the President has been recovering well from his mild symptoms and may now use this recovery as a running point.
The President posted a video that emphasized his strength in his apparent recovery, characterizing him as the leader of the American people in the battle against the virus. "As your leader I had to do that," he said. "I stood out front. I led."
His infection makes the second Presidential debate uncertain, with Democratic candidate Joe Biden calling for the debate to be cancelled. Contrastingly, Trump tweeted that he is "looking forward to the debate," currently scheduled to take place on Thursday, October 15, in Miami. "It will be great!" he said on Tuesday morning after his first night back at the White House. 
"I don't think they should have the next debate as it still seems unsafe," senior Mia Spang said. "If they were to have another debate it shouldn't be face-to-face and should focus on answering the questions."
With both sides offering contradictory terms with which to hold the second debate, the only apparent compromise would be to hold it virtually on Zoom or another video conferencing platform. President Trump has since rejected this proposal, put forth by the Commission on Presidential Debates. "I'm am not going to waste my time on a virtual debate," he said Thursday. 
Trump campaign manager Bill Stepien supported the President's statement, adding that he "will have posted multiple negative tests prior to the debate," and that a safe event can "easily be achieved without canceling a chance for voters to see both candidates go head to head." The President's physician has also reported that Trump will be able to resume "public engagements" on Saturday.
While the future of the October 15 debate grows uncertain, the third and final Presidential debate remains slated for October 22. If a compromise cannot be reached, this will be the only upcoming meeting between the candidates before election day.