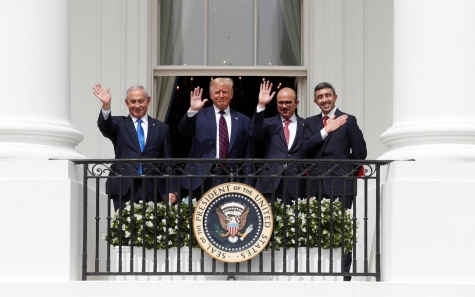 By Harrison York | Head Editor
October 30, 2020
Hostility towards conservative Americans has discouraged many from openly sharing their political views. In an election where the stakes have been raised so high, tensions are flaring from both sides, and every national issue has become political, Trump-supporters often fit their role as members of the "silent majority."
Take Nick Sandman, for example. A video of the teenager, wearing a MAGA hat and facing an approaching Native American activist, made its rounds in January 2019, with celebrities and the media unleashing a torrent of attacks that falsely portrayed Sandman and his classmates (on a field trip) as arrogant aggressors. 
Sandman sued for defamation, seeking $275 million in damages from CNN, $250 million from the Washington Post, and other multi-million-dollar sums from additional news companies. Both CNN and the Washington Post settled earlier this year. 
"I've fought against those who wish to silence my opinions," Sandman said at the Republican National Convention. "While our conservative values may not always be the popular ones held by celebrities and athletes on TV, we will not stop speaking out for what we believe is right."
While playing out on a larger scale than other political disputes, Sandman's testimony speaks to the state of our polarized nation, so quick to criticize others without knowing who they are or the reasons for their beliefs. 
Personally, I don't publicly support President Trump for similar reasons.
I wouldn't feel comfortable wearing a Make America Great Again hat in our community, even though it is a mix of left and right leaning individuals, because of how people can overreact and judge based on the emotionally charged and exaggerated opinions displayed on the national stage.
One SCHS senior feels similarly, preferring to remain anonymous due to the ionized political atmosphere so close to election day. "We can't let unemployment rise and more businesses go under," they said in support for Trump's plan for reopening. "Our entire travel industry is on the verge of collapsing and if that happens many jobs will be lost."
Conservatives find Trump to be much more capable of creating economic growth. Before the pandemic, resulting from Trump's corporate and individual tax cuts, the unemployment rate decreased from 4.7% around Trump's election to 3.5% in late 2019. During the pandemic, the rate increased to 14.7% in April, but fell faster than the Federal Reserve expected to 7.9% in September. The stock market experienced record highs before crashing at the start of the pandemic, yet major indexes have already recovered and climbed to new heights. 
Clearly not reflecting the reality of the economic situation in the United States, the stock market does show speculators' hope that America – under the leadership of Trump – will be able to recover and return to its previous prosperity. Pro-Trump Americans share this optimism. "We need to save the economy and I believe Donald Trump can make that happen," the senior said. The President understands the American economy and has already demonstrated that he can guide its safe return.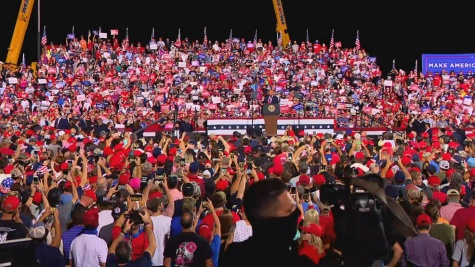 Another reason that conservatives support President Trump is that he isn't a politician. Despite the effects of Trump's background as a television star and billionaire contributing to his unconventional personality, he is seen by Republicans as a strong advocate for the prosperity of the United States. His campaigning is also one of his strengths, as, even at the age of 74, he is able to speak at rallies – often in multiple states in a single day – and deliver energetic addresses to the American people. 
"He gets things done," another anonymous SCHS junior said. "With four years in office Trump's done what he said he would, such as the border security and immigration enforcement improvements, protecting the nation from foreign terrorist entry into the United States," and "preventing violence against federal, state, and local law enforcement officers."
Joe Biden, contrastingly, has served 36 years as a U.S. senator from Delaware followed by two terms as vice president under Barack Obama. Because of his lengthy political history, Americans are questioning the validity of his promises. Some of the current problems with the federal government, such as the broken justice system, were made worse by Biden. In 1994, Biden worked with Bill Clinton and signed a criminal justice reform bill that resulted in skewed incarceration rates damaging minority communities. This is the same system that he and his party declare racist and are campaigning to remove. 
Additionally, despite the constant complaints from the left about President Trump's divisiveness, he has had success in resolving conflicts, as in two successive peace deals he brokered between Israel and the United Arab Emirates and Bahrain in September. They were the third and fourth Arab countries to recognize Israel as a sovereign nation, and the first peace deals to be affirmed since 1994. After the two deals, Trump claimed that there would be meetings with some five to six other countries to establish similar peaceful relations.
Trump delivered on his promise on Friday, October 23, when he worked with Israel and Sudan to normalize their relations. More peace deals will be arranged "largely after" the election. "We have five definites and I think we'll have another five pretty much definites," Trump said later in his comments on the Sudan deal.
A large portion of Americans see the 2020 election as a race between two candidates that don't fit their vision of the ideal president. Trump is criticized for his controversial statements and boisterous behavior, yet he has proven to deliver on his promises as well as set historic precedents. His accomplishments in a single presidential term have far outweighed and overshadowed those of Joe Biden's political marathon of mediocrity. 
A vote for Trump is a step closer to re-electing a man who is unfazed by his politically-entrenched rivals. A vote for Trump supports the American economy and the reopening of American industry. A vote for Trump is a vote for a president who loves America and the American people.