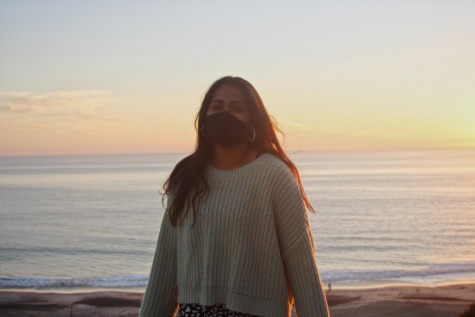 By Lucas Rapeepat | Sports Editor
November 1, 2020
Riya Khetarpal's impact is felt all over the school. Involved in a variety of leadership positions in organizations such as Link Crew, which introduces freshmen to the campus and helps them acclimate to high school, the NHS and CSF boards, which recognize SCHS' top scholars and brightest minds, after-school drama, and Triton Sparkle, she has a lot on her plate. "I would say that Triton Sparkle and Drama are probably the ones I am most involved in and take the most pride in," Khetarpal said.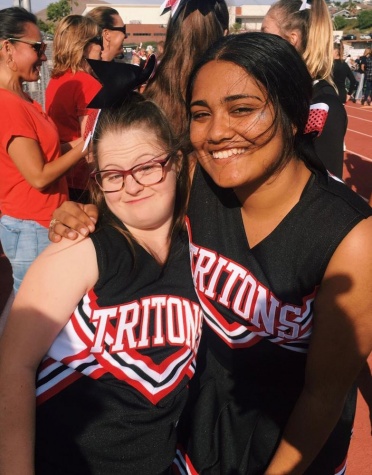 A member of the International Thespian society, Riya participates in both cast and makeup crew for the popular musicals and plays, which she finds extremely rewarding. Outgoing and always enthusiastic to perform, Khetarpal shines in and away from the spotlight.
As co-captain of Triton Sparkle, a campus cheer team which includes students with disabilities, Riya has coordinated cheer meetings at a variety of sports events, including football and volleyball games. Recognized at the district and city level, she is extremely proud of everyone involved in the program, which she has nurtured into its successful state. During the quarantine period, Triton Sparkle has continued holding meetings, albeit virtually, but hopes to resume practice soon.
As task force lead for the SCHS Against Racism and Cultural Proficiency movements, and a member of the No Place for Hate Committee, Khetarpal has an enormous influence in the budding culture movements that strive for school equality. Created in response to several controversial events earlier this year, these organizations attempt to make every student on campus feel like they belong. "It's always important to treat others with kindness, because you have no idea what they are going through," the senior said. "Keep an open mind, and listen to others' ideas because you may learn something new or shift your own opinions because of it." She challenges everyone to stand up for what they believe in and be confident in themselves and their abilities. 
The uncertain circumstances provided SCHS Against Racism a unique opportunity, as Khetarpal was able to build the organization through social media because of extra time at home. Though this positively affected the coverage for the group, it limited the ability to hold in person events and campaigns.
In the rare moments when she is not managing associations focused on improving life for others, Riya enjoys a wide variety of activities such as driving with friends and family, curling up with a good book, and experimenting with music on the piano and ukulele. Like many kids from San Clemente, the beach provides a comfortable environment for relaxation and more time with friends. Her open mind incites curiosity to sample everything.
But free time is scarce as she devises her plan for the future. Though uncertain of her exact career path, Riya is fairly confident she will enter the field of STEM, an acronym for science, technology, engineering, and math. "I hope to continue pursuing the things that I am passionate about," she said. "I am confident that the right area of study will find me eventually."
Riya's influence on the school is immense as she attempts to make SCHS a better place for all students. As a hardworking, dedicated, and fun-loving student, we are all lucky to have her at San Clemente High School.