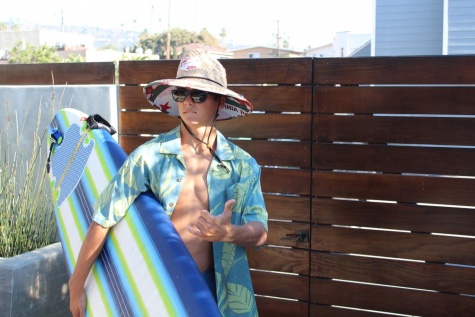 By Owen Simler | Writer
October 30, 2020
Many people love the idea of Halloween and dressing up to escape their real life and enter into the world of fantasy, while everyone else despises dressing up and would rather avoid it. For these people, here is a list of possible last minute Halloween costume ideas. 
Borrow one of your dad's old baseball caps and a white t-shirt with an old-band decal on it. A classic pair of beat-up denim jeans with weird stains on them, paired with socks and sandals, and you have found a perfect dad costume! Wear the cringiest dad mask you can find, and for an added bonus, let your stomach hang out a bit.
To be a golfer, all you need is a golf hat, polo t-shirt, pair of nice shorts or pants, and athletic shoes. A professional-looking black or branded mask is a worthy accessory. "I am really excited to be a golfer," Senior Garret Carter said. "It is just really easy and I don't need to go get anything."
A loud Hawaiian shirt is the focal point of this costume—the brighter, the better! Board-shorts are essential, and sandals or  even barefoot works well with this costume to capture the beach vibe. A flowered mask is the perfect accessory.
To be a greaser, the most important thing is a lot of hair gel or hairspray. A white T-shirt with a leather jacket on top can really capture the 1960's vibe. Some black pants if not leather jeans coupled with some boots would rock this costume. A sleek black mask adds to the cool look.
Put on a flannel, a pair of jeans, and boots. Some facial hair can really bring this costume together, and an outdoorsy or dirty-looking mask is ideal. "This is a good Halloween costume for me because I don't like getting too dressed up for Halloween," senior Aidan Giacobello said. Maybe live the ax at home, though.
SPOOKY: This costume not only looks good but is simple and is a classic. Jason Watkins/Photographer

Classic ghost
The ghost is one of the easiest costumes around. Grab a sheet, cut some eye holes in them and drape it over yourself. Add sunglasses for flavor, or just stick with the classic ghost look. The best part about this costume? No mask necessary!
To be an angel, dress up in as much white as you can, and add a homemade halo headpiece and white wings to stand out. To be a devil, wear as much red as possible and add a little toy trident. A white mask for the angel and a red or black mask for the devil would look great. 
Smack together a sports jersey, athletic shorts, and running shoes, and this costume is complete. A corresponding sports team mask is ideal!
To be a hippie, you are going to need some old tea-shades, round glasses, a tie dye T-shirt, and some bell bottom jeans. Barefoot or some sandals would really fit this costume. A flowered or tie dye mask brings the whole outfit together. 
We hope these ideas inspire your creativity this Halloween! Remember to stay safe!