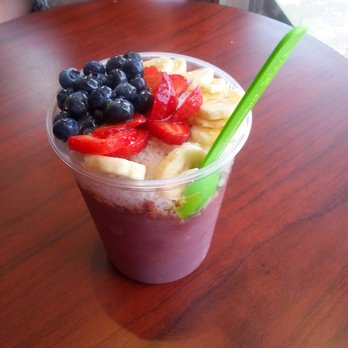 By Hannah Lickley | Writer
March 19, 2015
Summer is approaching soon and the perfect thing to eat while lying on the sandy beach is a cold acai bowl. The bowls are sold all over San Clemente but the best is definitely at Banzai Bowl.
Banzai recently came in right by Del Mar, which is only about a 15-minute walk from the pier. It's fast and easy which is perfect for relaxing summer days and easy-going weekends. The bowls come in two sizes; you can get the large and share with a friend or have the small all to yourself. The only problems I have heard about these bowls is that they melt really fast (but shouldn't be an issue if you eat quick) and another con is they are technically only healthy for you in the morning because of all the sugar.
There are many different kinds of bowls you can choose from but my personal favorite is the Maui Sunrise! This bowl has the traditional acai with a layer of crunchy granola on the top and bottom. It is loaded with coconut shavings to give it the perfect tropical twist. With strawberries, blueberries, and bananas on top is has the perfect level of sweetness. Finally it is coated with sweet honey to add even more delicious flavor. If you don't want something specific in your bowl you can ask to have it taken off because all orders are made fresh.
If you are not in the mood for acai they also have many different smoothies and juices. Banzai also makes delicious Pitaya bowls that are pinker and happen to be healthier for you, with less sugar. Make sure to stop by Banzai Bowl this summer and try one of their many bowls!