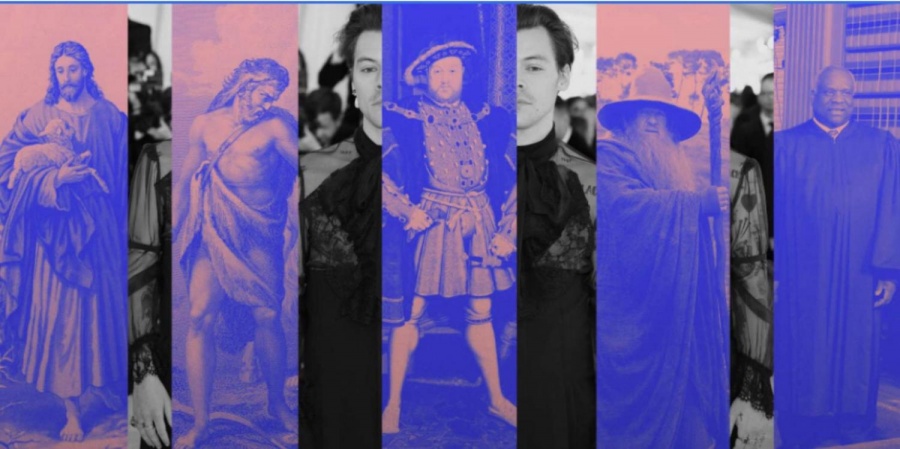 Bethany Padilla | Guest Writer
November 19, 2020
How can appreciation, support and love be manipulated into another evil effect of western culture and civilization? Harry Styles fans and progressives wonder this same ideal when faced with the demonization of the arts and expression on social media. 
A conservative political activist and author, Mrs.Candace Owens, recently shared her opinion on these topics. She has been known to slander more progressive, left leaning  movements and politicians, often subtweeting with our favorite cheeto man. Owens tweeted, last Saturday, in reply to American Vogue's publication of an interview and photoshoot with British singer Harry Styles, giving her dish of petty, blatantly ignorant, and uncalled for opinions.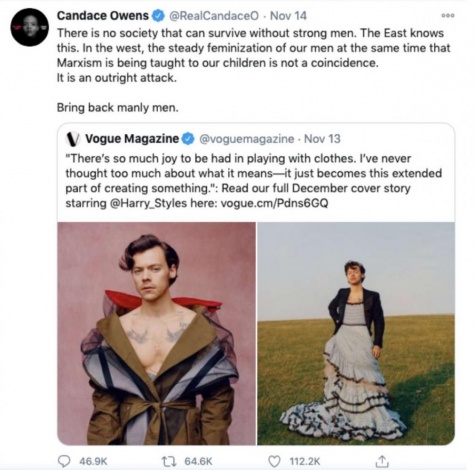 Owens can't deny that skirts have been a staple in men's attire since the beginning of textile fabrication. Ancient Roman Gladiators, South Americans, Pacific Islanders, African men, Scotish men, Indian men, etc. from their beginnings and to this day embrace the freedom of skirts and their versatility. 
The eastern civilization, Owens references, wears skirts for every occasion of life. Men didn't rock pants until men began to ride horses. Not only did men utilize skirts, but they also appreciated high heels from their conception, so why aren't true "manly men" wearing heels and skirts? 
It's plain and simple: Western civilization has limited men on their outlets of expression and their abilities to embrace femininity. 
Owens claims modern America has "feminized" men, yet all it has done is attempted to morph and constrain every man into the same, repeated, stereotyped image. 
Some well-known historical figures wore dresses or "knee-length tunics" like Jesus Christ, Alexander the Great, every pope, and every supreme court justice.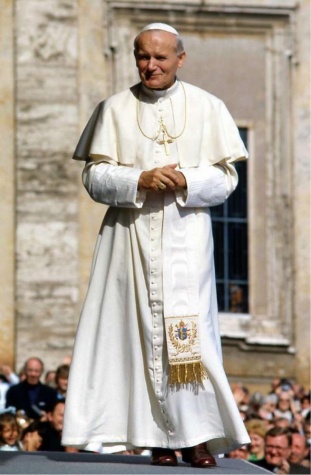 If Owens means to deny men a feminine spirit and expression, then why doesn't she support the inverse for women? 
"If you are a woman and you think it's bad for men to wear dresses and skirts, I better not catch you wearing pants," Junior Magdalena Alexander said, joking about the odd double standard in regards to clothing.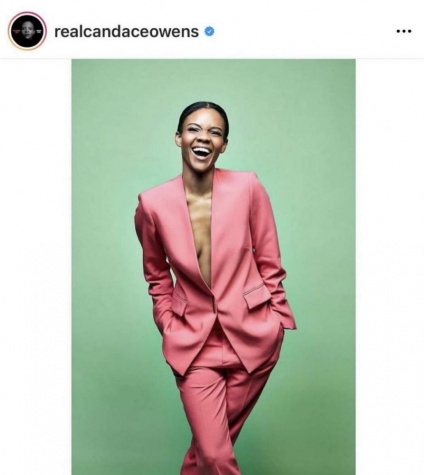 Last time I checked, Candace Owens dresses in similar, if not the same brands and styles as Harry. The apparent double standard is ridiculous and divisive. All men and women, and those between or different, should feel the total freedom and support to express themselves in any way they'd like. Clothing has no gender. 
Women should feel especially empathetic and supportive due to our restrictions throughout centuries and even today.  Women have been told 'no' their entire lives over a hem being too short or too long, so why isn't Owens more empathetic?
"There's so much joy to be had in playing with clothes. I've never thought too much about what it means—it just becomes this extended part of creating something," Harry Styles said. 
Style influence, Harry Styles, recently played as a catalyst for a crocheting COVID movement, which proved to be inspiring and healthy for quarantined and distressed teens to pick up. Style's JW Anderson cardigan inspired many people to pursue healthy, creative outlets. 
Young men and women see him to be a man who pursues his dreams and creative aspirations. Styles sings and sells and urges his fans to "treat people with kindness." Harry Styles is an example of acceptance and healthy expression in the media and in the fashion industry today.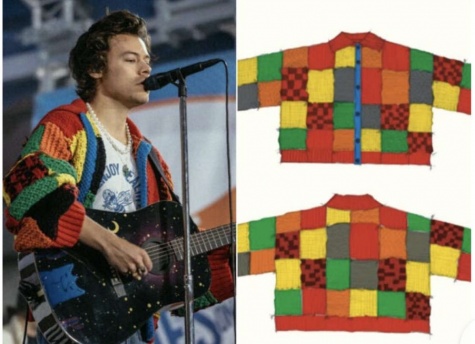 Here's a link to a tutorial on how to create your own cardigan! From the designer himself! 
Styles takes inspiration from universal icons like Prince, David Bowie, Elvis, Freddie Mercury, and Elton John. He continues to inspire others and work with wonderful people to create for anyone and everyone. 
Designers Jonathan Anderson, John Galliano, Harris Reed created remarkable and unique pieces for Styles' shoot with Vogue. Both ball gown dress like looks were designed by Gucci. Styles, photographer Tyler Mitchell, and stylist Camilla Nickerson played, explored and created art in Styles' most recent Vogue shoot, in order to inspire others that they too "can be in a totally free playground when (they) feel comfortable" in who they are and how they want to express themselves. It is revolutionary!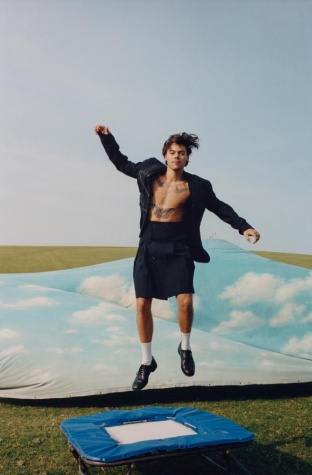 Preaching love and unity means embracing the way others act, or dress. Daily, people fight for sheer acceptance and tolerance, and to ignore those minoritized and uniquely beautiful people is inhumane and immoral. The United States is known for our dogmatic principle of all men, and women, being created equal, so, why do leaders and examples in the conservative media not support total freedom and equality?
"Radical leftists" are angry and fed up with being told how to dress and how to feel. There is no love in shame. There is no unity in accusations. Owens alienates men who feel so confident in their masculine self they feel free to explore their natural, and even "God given," feminine side.
 There is a level of feminine and masculine balance instilled in every human being, no matter what sexual organs they were born with. Denying either side of one's self is limiting and divisive in nature of limiting perspective and empathy. Denying universal acceptance catered towards both men and women due to the temporary materials put on their bodies is distasteful and ignorant.
Skirts and dresses are nothing to create battles about. If a man wearing a dress truly irks you maybe you should go back to history class or perhaps plan a trip to an art museum and notice that every important war figure or religious figure was wearing a dress. 
Owens negatively used her platform, and accountability for openness and love needs to be sent to her-and every other commentator's-way. 
So, from the wise man himself, Harry Styles, "it's just a time right now where we could use a little more kindness and empathy and patience with people, be a little more prepared to listen and grow."