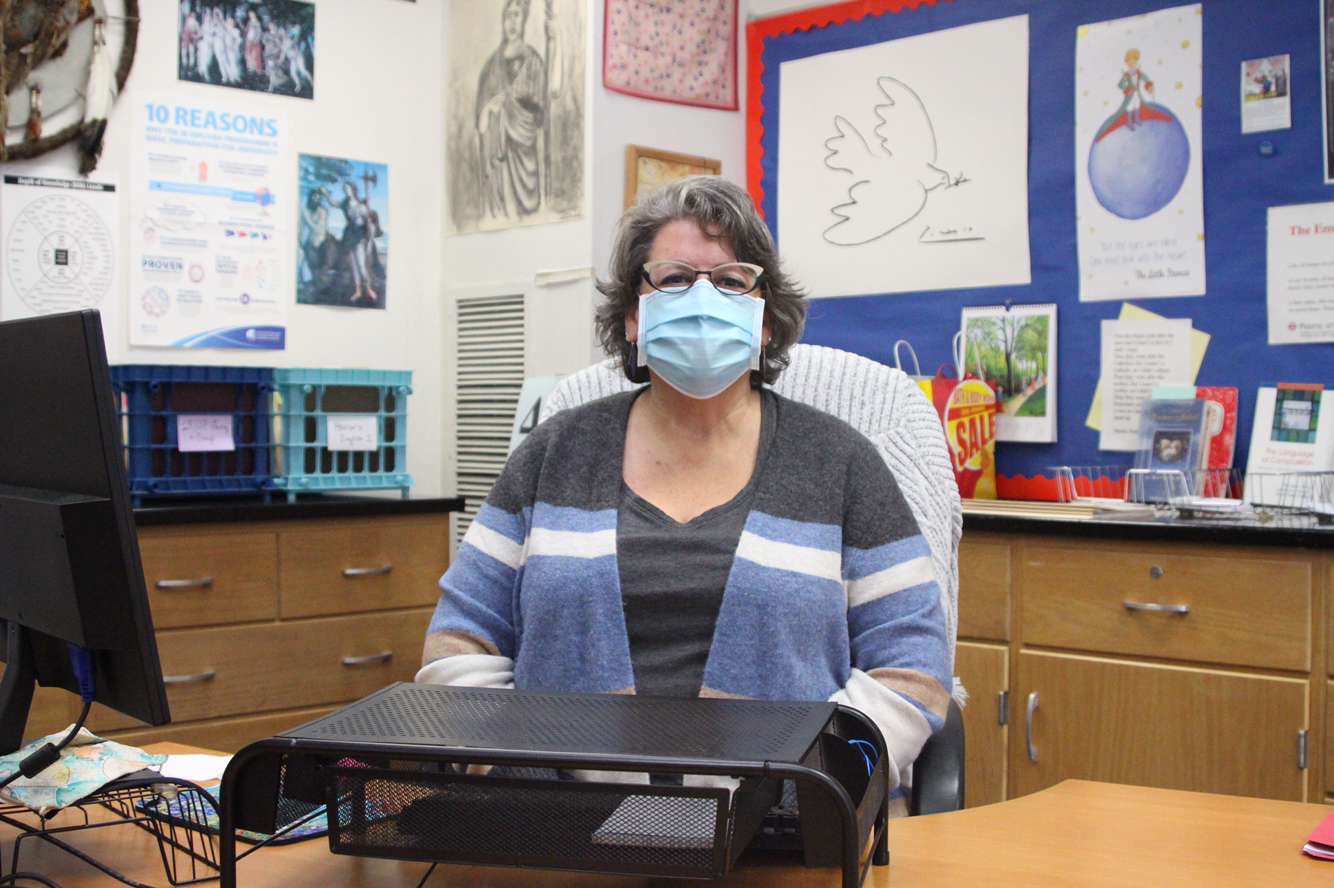 Mirca Gomez | Writer
January 7, 2021
Our school would not be as successful without individuals like Ms. Washington, who spend countless hours working for the benefit of her students. She is not only a full-time English teacher, but also the IB coordinator. With 33 years of experience, she has become one of the best Honors English I, IB/AP Language and Composition, and Theory of Knowledge teachers. One of her best features is her ability to bring out the best in her students and help them flourish.
Inspired by her high school English teachers, especially Mrs. Meadows, she decided to take on teaching. All of her teachers made a difference in her life, and she hoped have that same impact on others. Her dedication to SCHS has been truly extraordinary, and she has impacted all of her students' lives one way or another. 
"It feels more like a calling for me than just a job, so I take it very seriously, and I think that it is very important," Ms. Washington said. She meticulously writes comments in most writing assignments because she wants to give feedback to allow students to understand their specific mistakes and learn from them. Ms. Washington even takes the time to do one-on-one conferences with her students to personally address any questions or concerns regarding their writing. Not every teacher is willing to put in as much effort as she does. 
"My favorite thing about Ms. Washington is how much feedback she gives her students. I love how her door is always open to listen and give comments on essays or writing, and how much she genuinely cares about helping her students improve as readers and writers," junior Sophia Keefe said. 
Although Ms. Washington spends a lot of time working, she also loves spending time with her family. She enjoys watching movies, camping, playing cards, and doing all sorts of activities with her family. In addition to that, she also loves reading, and will pick up a book whenever she has time. 
There is not one block period that goes by without interaction. As her classes are all very discussion-based, Ms. Washington makes sure that her students feel comfortable expressing their opinions freely. You can tell she is passionate about her profession and truly enjoys her job by the way she teaches and communicates with her students. 
"I expect a lot of my students. I expect a lot of myself," Ms. Washington said. Although Ms. Washington has very high expectations, she holds these because she wants to develop her students and make a difference in their writing. Her main goal is to help shape her students into better writers and creative thinkers. 
She is a dedicated teacher and is always very invested in every lesson she teaches. Even though she teaches higher-level classes, she still guides her students to teach them how to do things correctly before they do them by themselves. Ms. Washington loves learning from her students and having her students learn from each other, which is why collaboration is a large part of her classes. 
"She creates a bond of trust between all of her students, and what makes her so different from other teachers is that I know I can go to her with any questions, and she'll patiently answer all of them," junior Meelad Ahmadi said. 
Ms. Washington teaches in a very memorable way, and everything she does helps students grow. After spending a whole year with her, students come out knowing much more and appreciating her very much. As a hard worker herself who voluntarily takes on several tasks around the school, she inspires her students to work diligently and put in some extra effort. Without her, the IB program, as well as the English Honors I and IB/AP Language and Composition courses would not be the same. 
San Clemente High School is very fortunate to have found someone as dedicated as Ms. Washington, and we thank her for everything she has done for our school and students.