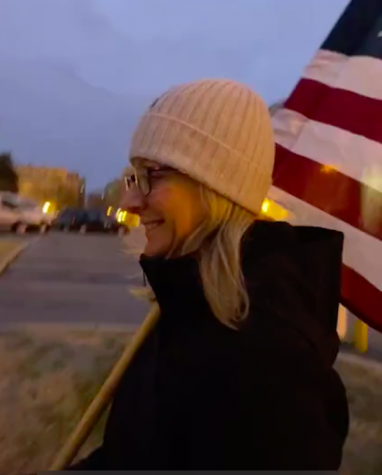 Maxine Davey | Editor in Chief
January 12, 2021
According to photo and video evidence, Kristine Hostetter, a fourth grade teacher at Vista Del Mar, attended the pro-Trump protest at the Capitol in Washington, D.C. on January 6 with her husband, Alan Hostetter.
Mr. Hostetter is the founder of The American Phoenix Project, a group dedicated to "standing guard against enemies of the constitution in its original form." Mr. Hostetter has organized marches protesting Governor Newsom's statewide closures and mask mandates, most notably the "San Clemente Freedom March" on March 13 and the mask-burning rally at the pier on November 23. In May, Hostetter was arrested while attempting to destroy the pier fence constructed to limit the spread of the coronavirus. In a speech to the OC Board of Supervisors in July, Mr. Hostetter proclaimed that the coronavirus was not causing a local health emergency and shamed Black Lives Matter protesters and the organization itself as "a Marxist domestic terror group dedicated to the killing of police officers."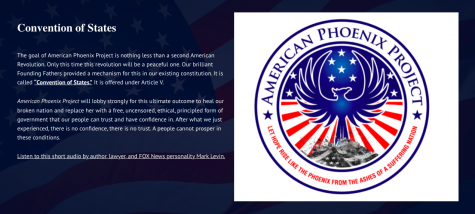 A video from the American Phoenix Project Instagram (@americanphoenixproject) identifies Mrs. Hostetter carrying an American flag beside Mr. Hostetter as he narrates their march to the Ellipse and describes their plan to end up at the Capitol. In the video, Mr. Hostetter proclaimed that they would not be entering the Ellipse because they were carrying "personal protective gear in backpacks…that they [security ] won't allow in."
In a since-deleted video from the same Instagram account, Mr. Hostetter filmed a video of the insurrection from the top of the Capitol building. It is unclear whether Mrs. Hostetter accompanied him during the break-in.
A post from CUSD Against Racism, an organization fighting racism and magnifying BIPOC voices in the district, demanded via petition the school district conduct an investigation of Mrs. Hostetter's actions at the Capitol, suspend Mrs. Hostetter until a conclusion is reached, and remove her from the classroom if conclusive evidence proves her involvement in the Capitol break-in. More than 5,900 signatures have been collected so so far. Conversely, many have come to Mrs. Hostetter's defense by creating a petition in response to show their support. This petition has received more than 1,500 signatures.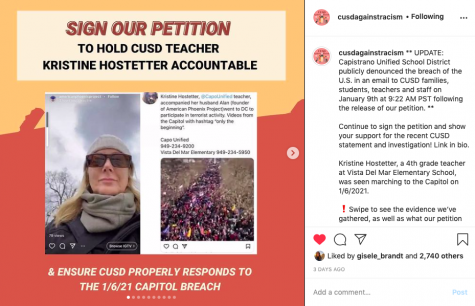 CUSD released a district-wide statement on January 9 condemning the events at the Capitol, and the elementary principal at Vista Del Mar, Troy Hunt, has stated that "HR is looking into the matter" of whether Mrs. Hostetter was an active participant. Parents of Mrs. Hostetter's students have confirmed she has not been in the classroom since before January 6. Mr. Hunt and the CUSD Human Resources Services department have no additional comments at this time. 
CUSD students have reacted strongly to the news of Mrs. Hostetter's involvement. "Fourth graders are at an extremely impressionable age," a former student and SCHS alum said. "How can she teach fourth grade when she refuses to acknowledge the threat of a global pandemic and the need for mask-wearing to ensure public safety? How can she resolve issues amongst classmates regarding fairness if she refuses to accept the results of a presidential election by engaging in a protest aimed to disrupt a constitutional transition of power?"
Other students and parents have been quick to vouch for Mrs. Hostetter's character and success at keeping politics out of the classroom. "Mrs. Hostetter is the last teacher I would ever say was anything other than fair and equal, both politically and racially," CUSD parent and schoolteacher Denise Martinez said. "I can make [sic] plenty of other teachers in the district that have tried to push their political views on my children and she is definitely not one of them."
UPDATE: Mrs. Hostetter has returned to teaching after an investigation. The story was picked up by The New York Times.