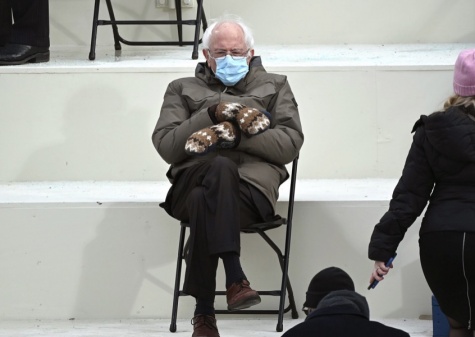 By Jack Harris | Writer
January 31, 2020
By now, you have probably seen one of those Bernie Sanders memes in your social media feed over the past week. You may be asking, why is Bernie Sanders the most popular meme right now, and why is he all over my social media feeds? Well, almost overnight, the picture you see above went viral, becoming an internet sensation having all to do with his outfit. 
Bernie Sanders watched his colleague Joseph Biden be sworn in as the 46th president of the United States in a brown parka and recycled wool mittens. Rather than dressing for such an important event, Sanders looked like he was watching his grandson's first soccer game. But hey, that's where the fun memes come from. 
As news began to circulate around his outfit, Sanders actually took advantage of his appearance and started to make merchandise, such as sweaters and T-shirts, to put up for sale on his website. In about thirty minutes, everything he had put up on his website sold out, generating over 1 million dollars that he donated to local Vermont charities. 
"I was surprised when I heard that number," senior Garrett Carter said. "1 million dollars is a lot of money for charity, and it's funny to think that it came from a simple outfit that Sanders decided to wear."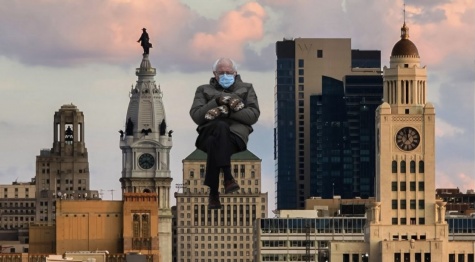 The mittens he wore were actually knitted by a woman named Jen Ellis, A Vermont elementary school teacher who runs a 'side' business of making these mittens out of recycled wool. Since everyone who saw that picture of Sanders loves the mittens and really wanted a pair, Sanders called Ellis personally over the weekend and told her that her mittens are 'creating a frenzy' and are resulting in generous amounts of money to be raised and donated. 
Ellis made three more pairs of mittens after the inauguration, two of which are going to local charities in Vermont for their use, and the other for which she is going to auction off on Ebay and put the proceedings towards her daughter's college fund account. 
"With all that's happening right now, it's good to know that there are still good people in this world," senior Cameron Culkin said. "Maybe Bernie Sanders should wear more outfits like that."
Bernie's mittens are probably more famous than any of those crazy red carpet outfits you see in the news, and that's saying something. You will find pictures of him sitting next to anywhere that someone can photoshop him into. There are images of him sitting on the moon, on the New York Subway, and all over thousands of social media accounts with the random people who can't get enough of this comedic relief. I never thought of Bernie to be a funny guy, but hats off to him. He managed to bring a little joyous humor to all our lives and raise money for local charities at the same time.