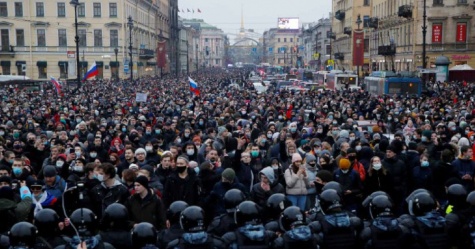 Kate Hedger | Student Life Editor 
January 31, 2020
Russia is currently seeing widespread protests in opposition to their leader, Vladimir Putin. The protest is in support of one of Putin's fiercest political opponents Alexi Navalny, an anti-corruption campaigner who regularly criticizes Putin and the Kremlin online.
Navalny has regularly made claims about Putin's Russia, saying that his party is a bunch of "crooks and thieves," and posting videos exposing things such as "Putin's palace" which involves alleged bribery. Navalny has grown a large following of millions on social media, mostly made up of a younger, millennial-aged audience. Despite his outright criticism of Russia's most powerful leader, Navalny was able to get some of his supporters elected to local councils in Siberia this past year.
Navalny is a clear danger to Putin's administration; he has been arrested multiple times for organizing anti-Kremlin protests and is clearly on their radar. His videos reach large numbers of people who agree with his claims and want to see change in their government.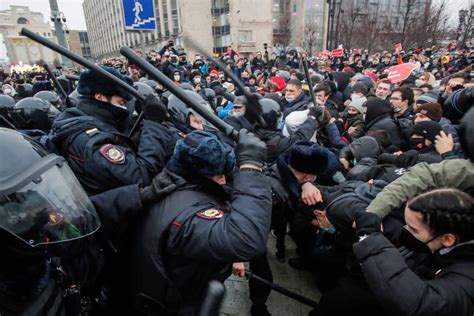 On a flight to Tomsk, Russia, Navalny fell ill as the result of nerve agent poisoning. Putin is accused of being behind the poisoning, though he denies involvement. Navalny was moved to Germany for treatment and, after several months, was able to recover from the poisoning. Upon his recovery, Navalny flew back to Moscow on January 17th and was immediately detained. Law enforcement claims that Navalny's detention was made on the pretense of an alleged violation of the parole terms of an old suspended sentence from 2014. Many believe the 2014 sentence was politically motivated.
Despite being held at a makeshift court by law enforcement, Navalny has the support of tens of thousands of people in Russia. While being detained, Navalny and his team are encouraging people to protest against the injustice that he is experiencing and the corruption of the government as a whole. He is calling for people to take to the streets and to not be silent.
"It's devastating to see that people like Navalny and his supporters are being punished for voicing their opinions," sophomore Sofia Sipelis said.
In over 100 cities in Russia, and at temperatures below -20 degrees, protesters are making their voices heard. Though the authorities are threatening to arrest people who take to the streets, the protesters have not backed down. At least 40,000 people have shown up to participate in unauthorized protests in support of Navalny. This large turnout resulted in more than 3,000 people being detained by Russian authorities, including Navalny's wife, Yulia. 
"It is incredible how many people are standing up to injustice," senior Aidan Tapias said. "It makes me realize that I sometimes take for granted living in a country that allows for the freedom to protest." 
As Navalny has called for more protests this coming weekend, it is clear this battle isn't ending any time soon. More protests are certain to come, marking a time of change for Russia.