Danielle Generaux | Student Life Editor
February 21, 2021
For many years, Saddleback College has been getting complaints about their mascot, the Gaucho. This mascot (as pictured above) portrays an Argentinian cowboy riding a horse and swinging a lasso. 
According to Saddleback's announcement, there have been "recommendations from the Associated Student Government, Academic Senate, and Consultation Council" to replace the mascot, as well as "a petition signed by hundreds of students and employees, and multiple campus and community forums" for the replacement of the Gaucho.
"I will say that a Latin cowboy is not offensive in itself, actually we should appreciate that aspect of the culture, but the mascot is depicted in such a mocking way, it's disrespectful! I love that there is a student run effort in our community!" junior Bethany Padilla said.
The main reasons that Saddleback is changing their mascot is as follows:
The mascot is a "cultural appropriation that dishonored a symbol of South American culture" by using the Gaucho as their mascot.

The depiction of the Gaucho as an "angry, racist caricature" relies on typical stereotypes of Hispanics. 

This portrayal of the Gaucho represents "an all-male culture" excluding the fair portrayal of women, especially female athletes.
"I did not know anything about their initial logo. I understand why it can be offensive to a multitude of ethnic groups such as Hispanics and Native Americans," senior Crista Mangahas said. "The man looks like a stereotypical Hispanic and I find that this logo further perpetuates stereotypical perceptions of BIPOC groups." 
After much consideration, Saddleback's President, Dr. Elliot Stern, announced that Saddleback would be changing their mascot from the Gaucho.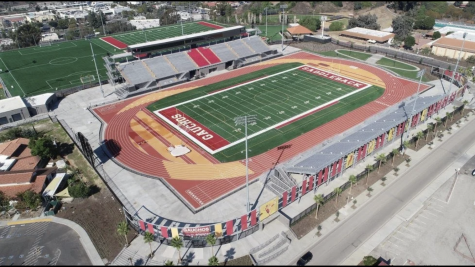 Stern went on to state "The controversy surrounding the mascot goes back many years. The hundreds of students and employees who signed the petition and spoke in our forums last year were not the first to decry the Gaucho as a symbol that caused embarrassment and pain, and share concern that it is not representative of a campus that prides itself on being inclusive and welcoming to all."
Saddleback has started its process of changing the old mascot and creating a new one. Alumni, students, and faculty created a group that will explore suggestions, discuss ideas, and conduct a survey vote for the picking of a new mascot.
The ideas must follow the criteria presented by Saddleback:
Be unifying for the Saddleback College campus and community

Present a positive image or ideal that will build enthusiasm and campus/team spirit

Be broadly relevant across the Saddleback community, the student body, and generations of alumni

Be representative of the Saddleback experience, history, or geography, either generally or specifically

Work equally well for women's and men's sports teams

Be represented in a visually pleasing way that connects to Saddleback College's values.
If you have an idea for a new Saddleback mascot, click on this link to share your idea. Saddleback is accepting new ideas until March 2nd.