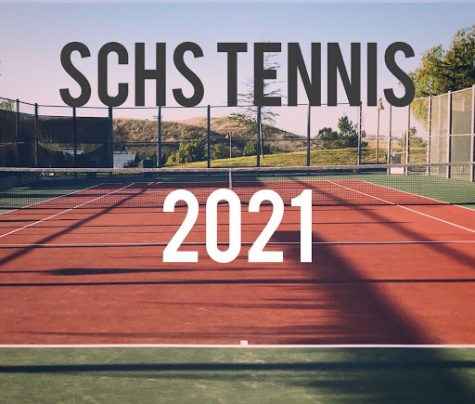 Harrison York | Head Editor
March 3, 2021
Last Thursday, the San Clemente High School boys' tennis junior varsity and varsity teams had their first matches against San Juan Hills High School. The event follows nearly a year without match play, as last season was canceled in March when the pandemic began. 
Sports are gradually starting back up with guidance from local and state authorities. Tennis, golf, and cross country are the first sports to be allowed to compete with other schools, while other athletic programs can practice to varying degrees of freedom depending on the proximity between players. Competition will look different from pre-pandemic times, yet the same spirit of teamwork and sportsmanship prevails.
Tennis is a naturally distanced sport, as there are never more than four players on a court during a match and it is played outside. Although players have to pick up tennis balls, there is minimal contact with them and, according to the Center for Disease Control, transmission from surface contact is "not thought to be a common way that COVID-19 spreads."
At the recent tennis match, there was no initial gathering between the two teams, where players would normally be introduced and shake hands before playing. Instead, court assignments are given to the players individually to ensure minimal contact. Before and after their matches, players wear masks and stay separated, but, during play, masks can be removed so that the athletes can compete to the best of their abilities.
Like in seasons past, both the junior varsity and varsity teams play at the same time, with one team traveling to the opposing school and one competing at home. This time, the varsity team played away at San Juan Hills.
Even with masks and hand sanitizer, the competition felt familiar. However distanced, the team was still appreciative to have the opportunity to play when most sports are restricted to practice or less activity.
This first match was a scrimmage, as SJHHS is not in the same league division as SCHS for tennis, but it was treated similarly to a normal match. In the end, the Tritons won by a significant margin, and both the singles and doubles players had a strong showing.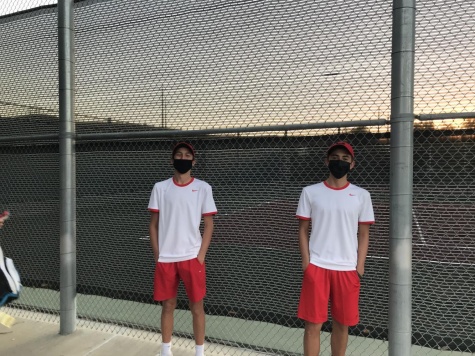 "SCHS sports have a strong tradition of teamwork and commitment to excellence," freshman Marco Chacon Masalski said following his first match as a Triton. "I got to experience this in our first competition versus SJHHS, which was awesome!  I'm fortunate to be part of this program and I'm looking forward to a great season, with great coaches and teammates."
Senior Nate Carey is "grateful to be able to play" during his last season at SCHS. After the cancellation of last year's season, he sees the chance to play as a "positive note to finish [his] career at San Clemente," and he is "glad that tennis is recognized as a sport that can practice and compete," while so many other programs are unable to operate during this time.
The boys junior varsity team was also successful, winning most of their matches at home. 
"I felt the friendly competitive spirit that is always in the air when playing," junior Zane Pert said after the match. "Our team was able to win almost all of our [individual] matches," and having this scrimmage "really helped our team to gear up for our league matches so that our new players know what to expect."
"We're prepared to keep our streak of being league champions alive," he said. The boys tennis teams were champions for nearly a decade before the pandemic canceled the 2020 season. Both JV and varsity hope to earn the title once again.
The girls tennis teams have all been competing for a few weeks now, their normal fall season being pushed back several months. Because of the rescheduling, it is difficult to have all of the teams practice on the limited number of school courts, but the tennis program has been working through this and scheduling one week at a time. Last week the girls JV and varsity teams had several matches, playing against historic rivals Dana Hills and Aliso Niguel. Unlike the scrimmage against SJHHS, these were league matches.
The girls tennis program was fortunate enough to be able to adjust their season and now have the opportunity to compete. "I'm thrilled to be able to play, especially with this group of girls this year," junior Lola Hollibaugh, who plays varsity, said. "It has brought a comforting sense of normalcy during such an erratic past year."
If the favorable trends related to the pandemic continue, the SCHS tennis program will keep practicing and competing in socially-distanced matches for the next months. Other sports have been allowed to begin practicing, and football games have been approved for the time being. With constant vaccination efforts, there is hope for a decrease in cases and, ultimately, that businesses and schools can reopen fully.