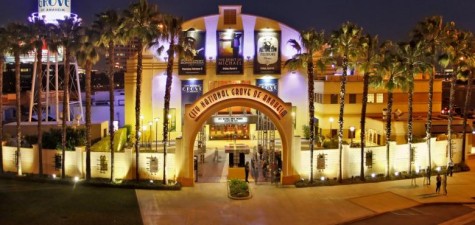 By  Bailey Peterson | Editor in Chief
April 28th, 2015
Festival season is over and prom season has officially begun!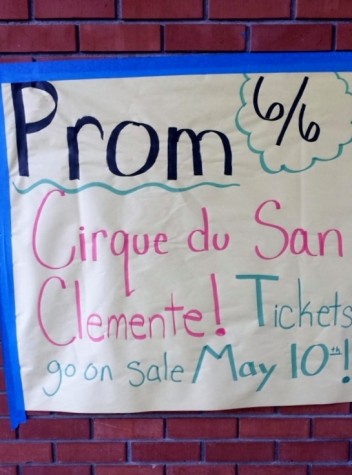 ASB already has their Prom 2015 advertisements up around campus, urging students to buy tickets. These posters trigger both feelings of anxiety and excitement in the hearts of every girl: freshmen and sophomores dreaming of being asked by an upperclassman and junior and seniors expecting a great "prom-posal".
This year's prom will be held at the Grove in Anaheim on June 6th. Similar to last year's venue, the Grove is about 40 minutes away from San Clemente High School. The Grove was last used as a venue for SCHS in 2005 (which, coincidentally, housed Mr. Miller's senior prom in which he danced the night away).
In a recent poll taken by the Triton Times, we found that most students travel to prom by party bus. Coming in a close second was arrival by limo and carpool followed distantly behind.
It is true that party buses can be expensive but they can also be more fun. Senior Emily Murphy argues that traveling by bus is worth the hassle,  "Getting there was half the fun. You hear people complain about the long drive but last year none of us even wanted to get off the bus!"
While June 6th seems far away, tickets go on sale in less than a month on May 25th. This time can be very stressful for single students. Boys plan who and how they are going to ask their dates and ladies wait in anticipation and fear of getting a date.
"Part of the fear is caused by the question of how you will be asked," commented senior Dana Burleson, "You don't want to be asked in a public place but you also don't want to be asked in an awkward setting where it's just you two."
Non-single students are alleviated from the fear of finding a date. A relationship is a major benefit when it comes to dances. Attending a dance with a significant other is less stressful and awkward because you are already comfortable with each other. The negative side of having a boyfriend or girlfriend is that it takes away the fun of going with a new person.
Senior Michael Hamming enjoys the pros of being single when it comes to dances, making asking someone new extra enjoyable. "While it can be scary to venture out of your comfort zone and ask your date to prom, it also makes the experience more exciting and fun."
For seniors, this upcoming prom signifies the end of a very important chapter in their lives: the end of high school. Prom is a very significant dance because it functions as a senior send-off and brings the upper classes together for one last time. So Seniors take into consideration this is your last chance to attend a formal dance in high school and buy your tickets starting next month at 75 dollars with an ASB card. Happy Prom season everyone!!