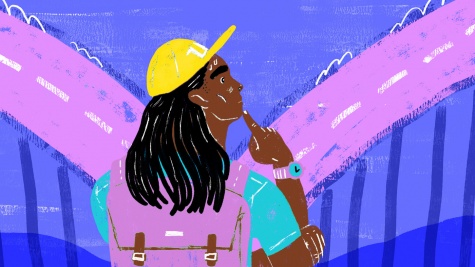 Clara Helm | Head Editor
March 18, 2021
College decision season is rapidly approaching, and with that comes a plethora of pro and con college lists. Seniors have to consider every aspect of the college, from tuition to the school environment, where they will spend the next 4 years. On top of assignments, AP and IB assessments, and extracurricular activities, seniors have to make a decision that is crucial to their academic path. March is packed full of these decisions being released, as many students are now hearing back from the colleges they applied to that weren't early action or early decision.
Of these decisions to come out, UCs are ones that a majority of students are awaiting. So far, UC Irvine, UC Santa Cruz, UC Merced, UC Riverside, and UC Santa Barbara have all released their decisions while UC Los Angles, UC Berkley, and UC San Diego should be coming out near the end of March. Some students were surprised by their rejections or waitlisting by some of these UCs due to the fact that other UCs accepted them. But this year, no acceptance is guaranteed due to the total shakeup that Covid-19 presented to the college admission process. 
Because of the pandemic, many students applied without standardized test scores and several other metrics admissions that officers at selective schools have long relied on, leaving colleges scrambling to figure out what else they should use to judge high school performance instead. Not only are some students' applications missing SAT and ACT scores, but also a semester or two of grades, since some schools switched to pass/fail grading when they went online at the end of the 2020 school year. Schools will also have to make do without a semester's worth or more of extracurricular activities — sports, band, theater, volunteering, and anything else that would help distinguish applicants from one another. Most likely, students' recommendations and essays will get a closer read by these colleges to get a better feel of the student, and their transcripts will be pored over looking for academic rigor and any patterns that help bear out a student's academic profile. They'll be working overtime trying to survey each piece of the application they have to make up for what they don't.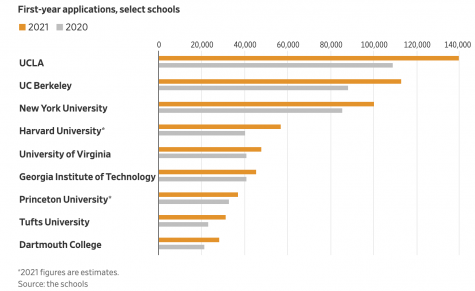 The yield rate will be very difficult for colleges to predict. With applications way up–Colgate had a 102 percent increase in applications–the formulas used by many colleges cannot be relied on this year. As a result, colleges have been making more use of waiting lists to better understand who is most interested in actually attending their school. Yield protection is an admissions practice where a college rejects or wait-lists highly qualified students on the grounds that such students are bound to be accepted by more prestigious universities, and therefore not worth the acceptance. At the same time that the most selective schools are overwhelmed by applications, colleges without national name recognition and ones that generally draw more low-income and first-generation college students reported declines. Therefore, all colleges are having a harder time than usual trying balance their normal acceptance rates and making sure they have adequate student commitment.
In light of these decisions, many students have been eager to get a look at the schools they could attend. While at the beginning of the year tours were strictly over zoom, as the end of the school year approaches, seniors have been able to tour some schools as their list narrows. While the lack of in-person residence leaves the campuses more silent than usual, this is great news for students that would like to preview the school's environment. Some things are hard to absorb through zoom tours, such as the surrounding college city and campus size. Seniors such as Danika Miller have started these in-person, self-led tours. She has visited both University of Oregon and the University of Washington.
"Sanctioned college tours are primarily unavailable right now, with only some exceptions. That leaves one visiting colleges with college 'tours,' self-led endeavors that tend to really emphasize the fact that there is in fact still a pandemic happening," Miller said. "There are lots and lots of closed stores and restaurants, very few open school buildings, and very little actual student presence. It's difficult to get the essence of a place when it's super dead. That being said, I think they're still very helpful in regards to gauging how much you'd like a particular location if you haven't been there before, so they're more worth it if you've applied to schools that are especially unfamiliar."
Despite the usual environments of most schools being disrupted, seniors are still excited to see their potential home for the next 4 years. "I have really loved visiting different campuses because it's getting me really excited for college," senior Luke Huston said. "The anticipation is killing me."
What is also factoring in for a lot of students' decisions is the in-class learning availability that the schools are offering in the fall. This year has made it clear to many students that online learning is not the most conducive environment for their education, and so one of their top schools only doing online classes can make them start to reconsider.
In the end, whether rejected or accepted, seniors will no doubt find the right college that will be more than qualified to expand their minds and develop their academic skills.