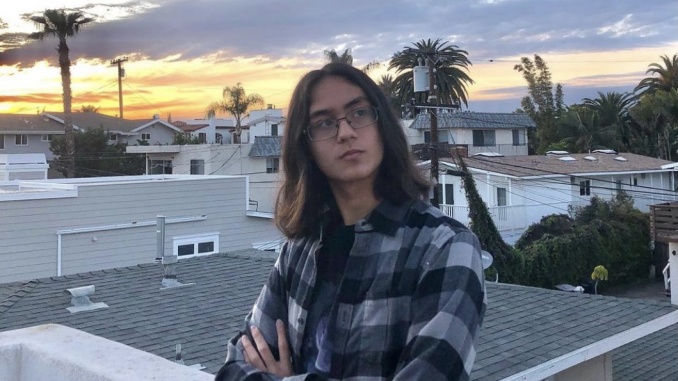 Savannah Gresham | Writer
March 26, 2021
They say that innovation distinguishes a leader from a follower. As the founder of the Alternate History Club, an outstanding member of the advanced choir ensemble in Madrigals, a creator of music, and much more, there's no question that senior John Koenigshofer is a paragon of both leadership and innovation.
Koenigshofer's many talents are both creative and diverse. Being an avid music lover and performer, he especially enjoys electronic music or EDM. Also, as a member of Madrigals, Koenigshofer loves participating in the advanced choir ensemble. Impressively, he won a certificate of excellence and was voted best in section for the 2018-2019 school year for Varsity Men's Chorus.
"It's such a great opportunity to make music with some amazing people, and I've made a lot of my closest friends through the choir," Koenigshofer said. He recalls that his favorite memory at SCHS was the Fall Choir Concert his junior year. "We all had a wonderful time performing and bonding together, and afterward, we all went to get Ruby's… It was an incredibly memorable night," he said.
But this is just the tip of the iceberg when it comes to this ambitious Triton's accomplishments. His other main passions include practicing the intricate and intensive hobbies of mapmaking and being an overall history buff. History, however, is not just a hobby for him, as he describes his proudest accomplishment in high school to be founding and running the Alternate History Club starting his junior year.
"As part of that, I designed and ran an entire historical simulation game with over a dozen club members participating; it was a lot of fun and a great experience to learn about leadership and organization," Koenigshofer said.
It's also no secret that Koenigshofer is a devoted and hardworking academic, having taken a whopping 11 different AP and IB courses and inevitably excelling in every single one.
Senior Aviana Reynard most admires not only his academic zest but his unfailing compassion.
"I love how passionate he is about history and politics. He goes above and beyond the school curriculum, and even writes his own alternative history on if something from the past didn't happen like it did. I admire how he's not only crazy smart but how he cares for his friends a heck ton. I've never met anyone else who goes out of his way to make sure his friends are okay or even to make them smile if they are having a bad day. We have this thing where anytime I wear my unicorn jacket with the hood up, he always sneaks up on me and snatches it down. I don't know how it started, but that's been going on for four years," she said.
He plans to continue his interest in history by pursuing political science or a related field at one of the UC campuses. He is also considering a double major to include urban planning — which focuses on the development and design of land — in his studies. Keeping his long-term goals in mind, he also hopes to advance to law school after his undergraduate work, and then pursue a career in politics.
"The way that we became friends was both interesting and hilarious. One day we were both waiting outside our classes during break, and he told me, 'isn't it weird how we look so similar to each other?' From then on we just clicked, became super close, and we still make each other laugh over the dumbest things almost every day," said senior Matthew Blakeborough, another friend of Koenigshofer's.
Managing an academic life as arduous as his has been, all while being a loved and cherished member of the SCHS community as a whole, Koenigshofer has proven himself to be a true leader. And one whose hard work, genuine compassion, and charisma will have a lasting impact on this world.
When looking back at his last four years at SCHS, he feels his best advice for fellow students and people in general, is to trust in themselves. "You know a lot more than you think, and you can do a lot more than you think. It's always good to push yourself and think about big decisions, but in the end, listen to your gut," he said. "Nobody knows you better than you do."
Advice that will undoubtedly continue to take him far in all of his endeavors.