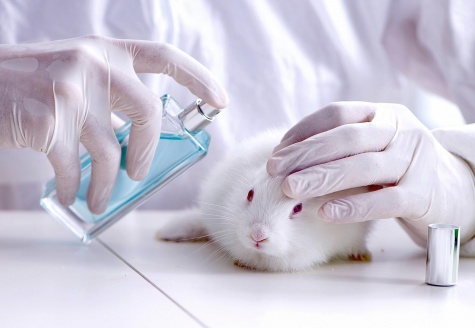 Ben Meyler | Writer
April 22, 2021
Animal testing has been going on for many decades. Thousands of companies use animal testing, such as L'Oreal, Clorox, Johnson & Johnson, and many more. These animals are forced to eat or inhale substances, have them rubbed onto their skin, or injected into their bodies. All the animals can do in these laboratories is sit and wait in fear of the next scary and painful procedure that'll be performed on them. Each year, over 100 million animals including rabbits, mice, rats, hamsters, guinea pigs, dogs, cats, monkeys, frogs, fish, and birds are killed in U.S. factories alone. The stress of their living situation can cause some of the animals to develop neurotic behavior such as rocking back and forth, pulling out their own fur, spinning in circles, and even biting themselves. After enduring a terrible life of pain, loneliness, and terror, almost all of them will be killed in the end.
"It's so devastating what goes on behind the scenes… it really breaks my heart thinking about what these poor animals have to go through because of us humans," sophomore Kayla Mclaughlin said.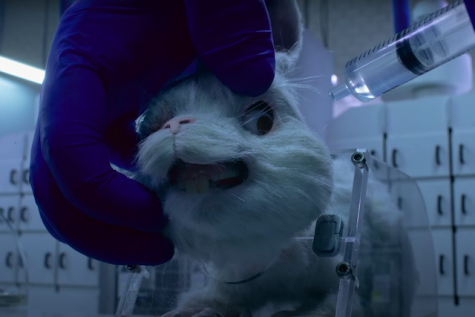 Recently, the short movie "Save Ralph" has caught the media's attention and caused quite a stir. This film was presented by the Humane Society of the United States and it has reached over seven million views in only two weeks. There has been an uprising from the younger audience following the release of this film, as many of them weren't aware of the issue beforehand. It's good to stay informed so that you can avoid any products that are involved in animal cruelty.
"Ever since I watched the film I've genuinely felt so guilty because I'm now realizing half of my favorite makeup products and other things I own aren't cruelty-free," junior Shelby Reisender said. "I've heard of animal testing before, but I never put much thought into about how cruel it is until recently."
People have been protesting animal cruelty for years now and although it's still very popular and used by many big corporations, there has been a decrease in numbers along with an increase in outrage. Even though petitions and pledges don't physically make a change as is, they acknowledge issues and spread awareness in order to inspire change and they have been proven effective for years.  
There are plenty of test methods that don't have to do with animals that can take the place of animal testing. Not only are these tests more humane, but they also could be a cheaper, faster, and more relevant option to humans. While some of the experimentation that is performed on animals today is required by the law, most of it is not. In fact, there have been many countries that have banned the testing of certain types of goods on animals, such as the cosmetics-testing bans in India, Israel, New Zealand, Norway, and more places as well. Hopefully, the U.S. will be added to the list within the next decade or so before too many other innocent animals have to die at the hands of humans.