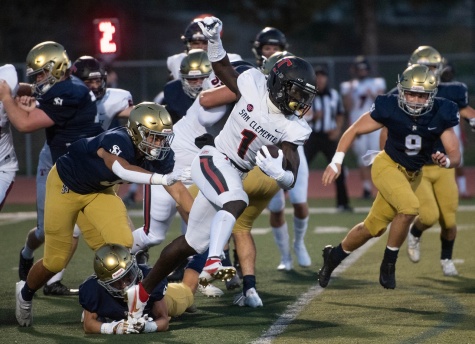 Owen Simler | Writer
May 7, 2021
In 2021, most sports were able to start their practices and games, and a hectic but welcomed period of overlapping San Clemente High School sports began.
On March 19, the most anticipated return of Triton football team occurred as they field for the first time in more than a year. The red and black dominated their division this year going undefeated against five of the top teams. Since their season was pushed back so far, the team had a very limited season consisting of only two preseason games and three season games, but the players were just excited that they could play at all.
"When it was announced, everyone was stoked to finally have a season," senior Pierce Letwin said. After sixteen months of not being sure whether or not they would be able to have a season, the players, especially the seniors, were thrilled to finally be able to play. 
The Triton football team didn't seem too out of shape from over a year without games. The team came back with a vengeance against Capo Valley with a 35-24 win at home. The Tritons then played Aliso Niguel and came out victorious with a blowout 41-7 win. After this win against Aliso, the Tritons moved on to their first regular season game San Juan Hills.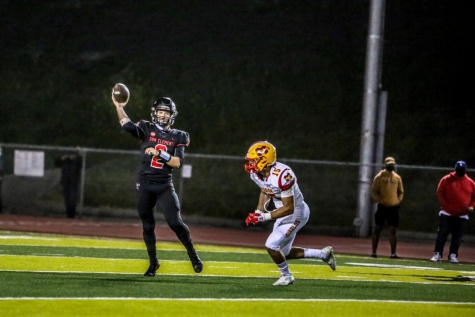 At San Juan Hills, The Tritons won again 35-7 in another monumental win. When the team faced off against Tesoro, the Tritons won for their fourth win in a row against Tesoro away from home. The Triton's final game was against Mission Viejo, also 4-0 leading into the final game, meaning whichever team won this game was going to be the league champions. In a very close match, the Tritons were triumphant over Mission Viejo and emerged league champions. 
With a team full of talented players, some players won prestigious awards due to their hard work and skill. Kanious Vaughn, defensive-lineman, was named First Team All State with 28 tackles, 11 tackles for loss, and 8.5 sacks in this limited season. Another player who received an All State award was running-back James Bohls. James was named Second Team All State rushing for 655 yards and eleven touchdowns. James Bohls also received the South Coast League MVP. 
"I was very excited to be announced Second All State," senior James Bohls said. "I am thankful for all of the help that my team and teammates have given me throughout the years." 
Even though the Tritons had a limited season after being pushed back many times, the players made the most out of their season in going undefeated in all five of their games and becoming league champions.