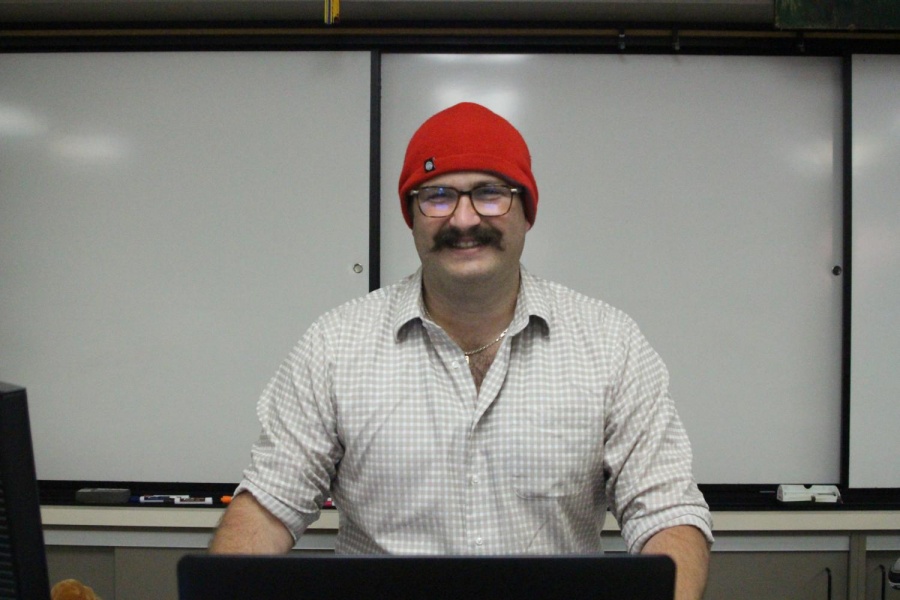 Sosie Casteel | A&E Editor
March 27, 2021
June 3rd will be a bittersweet day for San Clemente High School. It marks both the end of the 2020-21 school year and the end of our beloved teacher, Mr. Bradley Kerr's time at our school. Mr. Kerr teaches Physics and Environmental Science and is a favorite for hundreds of students at our school. "He's a teacher who genuinely cares about each of his students and creates a welcoming environment for everyone whether they're online or in-person," junior Haley Sandstrom said.
He graduated from UC Berkeley with a degree in Environmental Science and has been teaching at SCHS for six years. His mother, Mrs. Kerr, also taught Biology and Environmental Science at SCHS until last year when she retired. Now, Mr. Kerr and his family will be joining her in Oregon.
"I intend to either continue teaching at an IB school or pursue a Master's degree in forestry/fire science and pursue a career as a forest manager," Mr.Kerr said. He admits that he's both excited to learn new things and nervous to leave his hometown as he embarks on this new chapter. Truly, San Clemente won't be the same without him.
"He was able to make himself so accessible and approachable that his roles as a teacher and a friend mixed together," junior Jack Rogers said. "Saying that I'll miss him is an understatement."
Mr. Kerr structures his classes similar to a high-level college course wherein students can participate in discussions, create their own portfolio, and even come in for Office Hours if they're in need of additional support. He makes sure to keep up with his students who he sees struggling and his door is always open, literally. "Everyone has a story worth listening to. Especially if you don't agree with someone, just listen to what they have to say and what has happened in their life to get them there," Mr. Kerr said. "Most of the students I've taught and teachers I've worked with live amazing and interesting lives, so just get to know people!"
"He was one of the few teachers who really challenged me to think about my surroundings in a new perspective," junior Chase Geyer said. Mr. Kerr is known for his engaging lectures, his endless assortment of hands-on learning opportunities, and his friendly personality. He makes his students excited to attend his course and structures his lessons to interest the most amount of people.
Kerr's ultimate goal as a teacher is providing essential knowledge and boosting students' self-confidence. "My favorite moments teaching are when I get the chance to see students start to believe in themselves as much as I believe in them," Mr. Kerr said. "Whether it's a topic of discussion or a difficult concept, the best part of being a teacher is getting to see such talented minds at work."
Mr. Kerr's passion for science is unmatched. "He actually wanted to do it and that made a HUGE difference between his class and my other classes," junior Briana Carlson said. "I felt encouraged to learn instead of just getting good grades." Indeed, Mr. Kerr often gets so excited about the material that he lectures on that it's difficult not to mirror his energy. Students leave his class with a smile and a mind brimming with new information from pollution to the rules of momentum.
Saying goodbye to Mr. Kerr this year will be difficult for both SCHS and Mr. Kerr himself. "I'm going to miss the parts of the community that helped mold me into the individual that I am," Mr. Kerr said. He fondly recalls his most recent trip to Yosemite where he and his students talked in funny accents for most of the trip. "There are many folks at this school that have had a profound impact on me; I will miss them dearly, but I absolutely intend to stay in contact with them!"
In August, the Kerr's will embark on one last journey to the Galapagos with a handful of students and staff. He leaves us with this advice: "Time is the most valuable resource you have, and it's the only thing that is truly non-renewable."