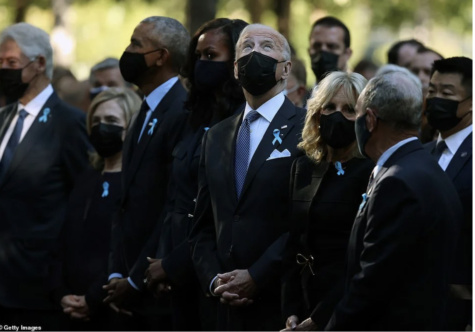 Talie Folsom | A&E Editor
September 17, 2021
The nation came together in order to pay tribute on the 20th anniversary of 9/11, most notably with a large gathering in New York and, most commonly, in social media posts. Many Americans mourned their lost family members and friends, government officials paid their tributes, and others participated to pay their respects. 
In acknowledgement of the two decades that have passed since 9/11, people gathered at the September 11 Memorial and Museum to commemorate the lives that were lost. A powerful ceremony began that included six moments of silence and readings of the names of those lost during the terrorist attacks. This ceremony was exclusively for 9/11 family members to mourn together. 
Government officials also showed their respect in various ways. President Biden visited the sites of the 9/11 attacks. Furthermore, at a memorial event in New York, former presidents Obama and Clinton made appearances. President George W. Bush and Vice President Kamala Harris spoke at a remembrance in Shanksville, Pennsylvania, where Flight 93 crashed. With the other officials present, they emphasized the importance of this event and the shift it brought to America, still prevalent 20 years later. 
In addition to the large official gatherings for 9/11, there were also much smaller approaches to paying respect. Many people recalled the slogan "Never Forget" with social media posts and reposts.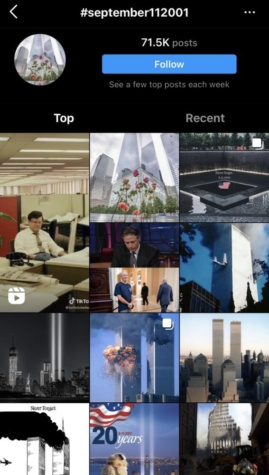 "Every year I see 9/11 posts across all social media platforms," senior Elle McGovern said. "The more I see the posts, the more I look into it and feel sympathy for those who lost their loved ones. There were also so many heroes on that day. My dad is a fireman, and I could not imagine what the families that lost a hero are going through." 
Through social media, people educate those who were not alive during this event and also recognize a variety of heroes.
The role of education is particularly important now that current high school students were not alive for 9/11. Normally on 9/11, there are several teachers that reiterate the significance to their students. 
"It's one of the most tragic days in modern U.S. history," teacher and Social Science Department Chair Ms. Shick said. She continued to give intriguing insight on the importance of the event. "I wish we learned more about September 12th because it was a day where we all came together regardless of political party or income or color. We all just wanted to support one another through a difficult experience." 
September eleventh is a day in history on which we all commemorate those who lost their lives in the attacks and recognize how it has changed the United States. Those families went to bed on the 10th not knowing it would be the last time they saw their wife, husband, father, mother, or friend. People must treasure their loved ones and cherish all moments, because there's ultimately no telling what moment together will be the last. The response to the 20th anniversary proves that America still remembers the pain and anger and unity and growth that came from the tragedy and truly will NEVER FORGET.