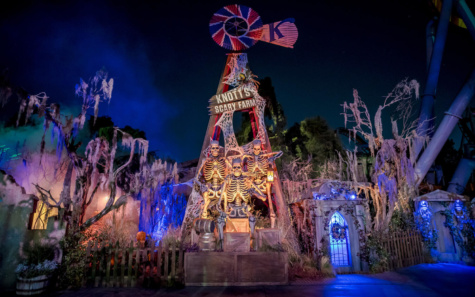 Nicolle Generaux | Arts and Entertainment Editor
October 24, 2021
The 2021 Halloween season is finally here, and people are looking forward to enjoying it with their friends and family. There are many events around San Clemente celebrating the holiday, but a few stand out as must-see events. Whether it is thrill-seeking or more nonchalant, there is an attraction on this list for everyone. 
Casa Creepy Haunted House (San Clemente): If you are looking for a quick scare that is local, then this is the event for you. Every year during the spooky season, Casa Romantica organizes one of the largest family-friendly Halloween attractions in southern Orange County.
Calling itself the "Creepy Casa," this historic building becomes a 1920s themed haunted house, both inside and out. The ghouls of the night hide behind every corner, every bush in the garden, every white pillar, awaiting the chance to scare visitors lurking around the house. 
"All the volunteers at the Creepy Casa create frightening and realistic props which makes the experience much more spooky," junior Carissa Johnston said.
Haunt of Halloween (Mission Viejo): One of the scarier events in Orange County, Haunt of Halloween features several attractions to make thrill-seeking attendees scream. The main activity is the haunted maze, and this year's theme is Outpost 13, displaying a military-inspired jailhouse with flashing lights, hanging bodies, and more.
As an added bonus, the event has an interactive scare zone, where the maze walkers get to become the scarers for 5 minutes. This Halloween thrill is guaranteed to get your heart pumping! There are additional attractions included as well: a trick-or-treating period, a photo-op, and illusionist performances. 
Knott's Scary Farm (Buena Park): Probably the scariest, most popular Halloween experience on this list, the amusement park Knott's Berry Farm transforms into a terrifying nightmare for guests in the late evening. It consists of eight haunted mazes, all decorated according to its own theme, which ranges from extraterrestrial encounters to an abandoned carnival ride.
Other attractions include scare zones which, according to the website, have over 1,000 cast members hiding in the shadows of the park, ready to jump out and scare anyone nearby. To top it all off, there are entertaining illusionist shows that are both comedic and frightening. There is no doubt that you will get jump scared or worse attending this event — which is probably why the website recommends visitors to be at least 13 years of age.
"It terrified my friends," sophomore Gianna Flynn said. "I recommend it if you are looking for something frightening to do for Halloween."
Carlsbad Strawberry Company (Carlsbad): This large strawberry farm has a pumpkin patch and corn maze available all week. This event is directed towards people looking for a more laid back Halloween experience, without any clowns, chainsaws or jump scares.
Other activities include an apple cannon and a tractor ride around the land, giving attendees a great opportunity for photos with large pumpkins and natural backgrounds. 
As more events open up, it is great to see that there are opportunities for frightening outdoor activities this Halloween! Have fun and be safe, Tritons!