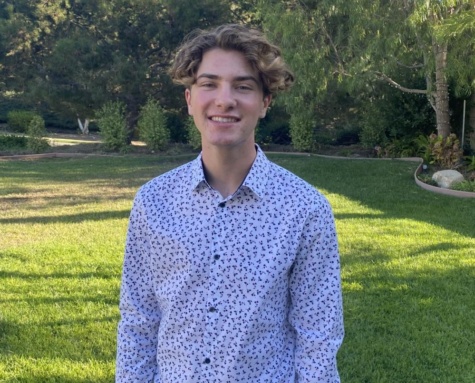 Danielle Generaux | Student Life Editor
October 24, 2021
Senior Evan Lipofsky can be described in two words: hardworking, and motivated. Evan's academic accomplishments have been aided by his time management and organization skills. His four years at San Clemente High School have been spent serving his community with kindness and respect, not only as a great student, but also as a leader.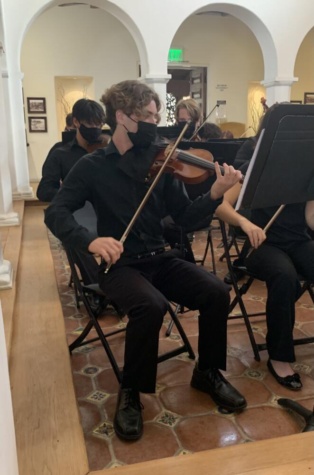 As Concertmaster of Chamber Orchestra, Evan leads the group at the beginnings of rehearsals, plays solos, and occasionally conducts performances. He has worked his way up the rankings since freshman year and now utilizes his skills to help other people succeed. Since freshman year, he has also been a member of the South Coast Youth Symphony Orchestra, an internationally renowned orchestra, where he has performed in some of the finest locations in both the United States and Europe.
"Music is an important aspect of my life, and I pride myself in my commitment to continuously playing the violin," Lipofsky said. "I played a solo on the violin during a quartet in Berlin, and we played in the Rudolfinum in Prague, one of the most historically significant concert halls in the world. We also made history by featuring the first dancers to ever perform on this stage."
"Evan is my best friend," senior Madeline McDonald said. "I feel so lucky that I've gotten to know someone so talented and thoughtful and could not imagine my life without him. He's also a genius, the smartest person I know."
Not only is Evan involved in music, but in sports as well. He is a varsity runner and jumper on San Clemente High School's Track and Field team where he competes in the 100m, 200m, 4x100m relay, and the long jump. "I workout in daily practices and I have built a strong community of friendships in this sport," Lipofsky said. He has even won 1st place in the long jump at the Triton Invitational, a competition that featured over 50 schools.
For the past 13 years, Evan has been a part of the Spanish Dual Immersion program. "I feel confident in my speaking, reading, and writing skills in this language and this gives me the ability to converse with and understand a wider variety of people," Lipofsky reflected.
Evan has also been a part of multiple organizations that focus on community service.
As Treasurer of the National Honor Society, which he joined during his sophomore year, he helps to organize community service events and help new members assimilate into our welcoming community. For community service he has had experience in Lion's Heart, Pacific Coast Church Summer Camp, and Beach Conservatory.
"I met him freshman year and we have been friends ever since," senior Izzy Duzman said. "He is so insanely smart, talented, funny, and nice. He's really just a nice person and everyone who meets him likes him. I know that wherever he goes he will do amazing (and I bet he will go to Stanford [his dream school]). He's such an awesome person, and I was so lucky to have met him and been friends with him since my freshman year."
In Lion's Heart, Lipofsky volunteered for things such as cancer runs and making dog treats for the local animal shelter. "During the past two summers, I have worked at the Pacific Coast Church Summer Camp, where I mentored and led 4th grade students through the importance of religion, spirituality, and joy through challenges and problem solving," Lipofsky said. "These camps were one week long and six hours per day." Another club Evan is involved in is SC Beach Conservation Club, where there are frequent beach clean ups at local beaches.
Evan's time and effort for his passions have not only influenced students at San Clemente but have influenced numerous people across the city of San Clemente. In the future, Evan plans to pursue a career in chemical engineering as he has always had a "captivated interest" in chemistry. "I am truly thrilled to study in this area," Lipofsky said.