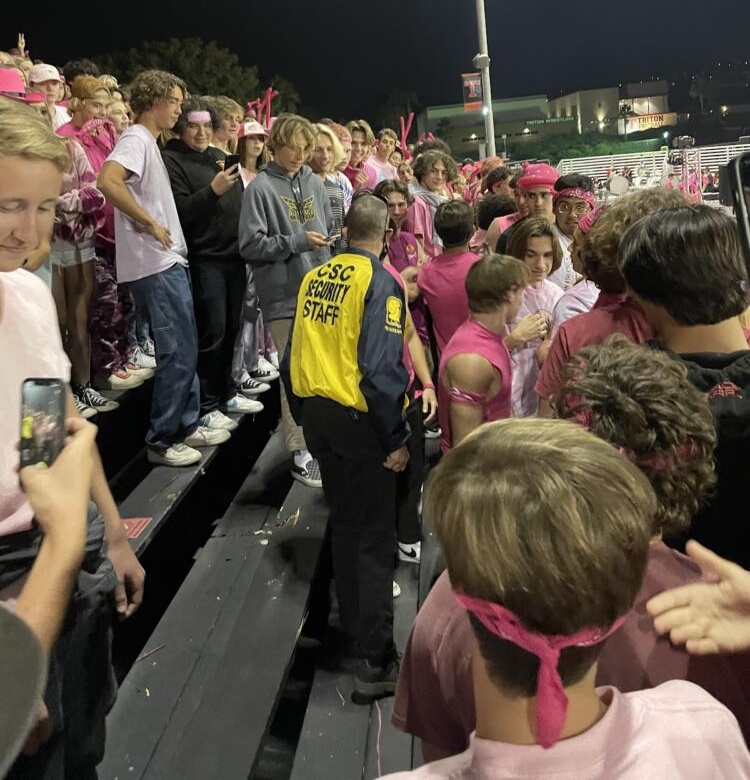 Robert Schumacher | Writer
October 22, 2021
Last week, San Clemente High School hosted the pink-out football game against our school's rival, San Juan. During the game, many students in the loud crowd section of the bleachers heard a loud snap—the snap of a wooden bleacher seat breaking. Soon after the initial break, many students encircled the area and allowed room for a few students to continually jump on and try to further break the bleacher. 
Students raised their phones and shouted for a few individuals to keep slamming themselves onto the damaged bleacher. They were attempting to create a clean snap of the board, as until then it had only been a partial break that left a bendable wooden surface that acted similarly to a trampoline.
As soon as security caught wind of the situation, they shoved their way into the crowd and removed a student from the bleachers. It was later revealed the student was kicked out of the game and given an after-school detention despite the fact that none of the other students involved received any disciplinary measures. Videos of the event quickly circulated through social media, and students had a lot to say about it.
"It's not that big of a deal," senior Matthew Dupree said. "While I do feel a bit bad that someone had to fix and replace the board, it would have eventually happened anyway and the reason it originally broke it was because we were celebrating a touchdown."
It seemed other students disagreed, and thought it was a reflection of the student body's lack of self-control. "While at the moment this action was exciting, it ultimately was not a great representation of school spirit and of San Clemente culture," senior Jason Herrman said. "The high school football games are a point of the community and this definitely marred some of the communal aspects that is so stressed at these games. It cannot be emphasized more that the destruction of school property in such a public setting is a bad look for the student body."
All students interviewed shared the sentiment that the student body has a tendency to be extremely enthusiastic and energetic about our school, which in most cases is an amazing and wonderful reflection of the pride and passion we have as a community. However, it can also encourage a mob mentality that causes students to make regrettable decisions that they wouldn't have made if their peers weren't pressuring them.
School events are more often than not a flurry of emotion.
"I think it's just a result of the herd mentality that comes along with such an enthusiastic student population," senior Chase Geyer said of the cause of the bleacher-breaking incident. To put it bluntly, "when emotions run high, people do stupid sh*t."
But students need to remember that their actions can and will have serious consequences. Students deserve to have a good time, but they also need to keep in mind how they want to present themselves and represent the school that they are so eager to cheer on.