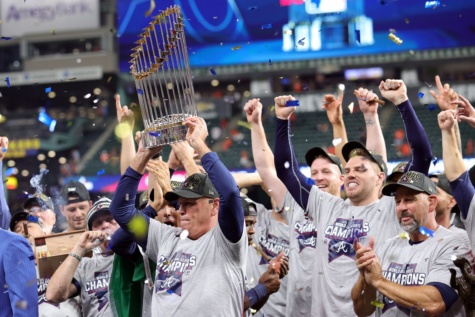 Jack Hagen | Sports Editor
November 7, 2021
Tuesday, the Atlanta Braves won their first World Series in 26 years with seemingly the entire country on their side. Their opponent, the Houston Astros, are possibly the most hated team in the entire sporting world. They cheated their way to a championship in 2017, and the world has not forgiven them for it, especially because they continue to deny it and make excuses for their actions.
An unbelievable performance from the World Series MVP, Jorge Soler, rocketed the Braves to the win. Hitting .300 with three monster home runs, Soler was undoubtedly the most valuable player on the field. With that being said, it was definitely a team effort with a lot of other significant contributors. Third basemen Austin Riley hit .320 and came up with a few very big hits, including a walk-off in game one. Then, of course, there's the fan-favorite and face of the franchise, Freddie Freeman.
After a very rough start to the season, Freeman bounced back and became a major contributor to his team. He played in the organization for twelve years, through all the ups and downs, and was finally able to win a World Series. Freeman was quickly a fan favorite after going viral with his son, Charlie, attending his little league games even though he had important games happening around the same time.
"I was very happy to see Freddie Freeman win a world series," senior Kaden Giles said. "He is a great baseball player and an even better guy. He deserved every second of it."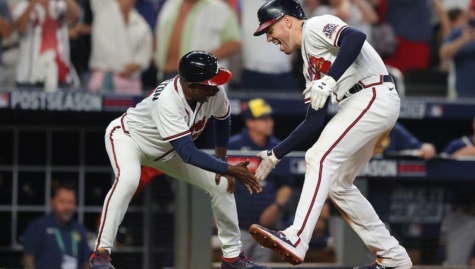 More importantly, though, they beat the Houston Astros. Hated in the entire sports world, seeing them lose was a great feeling for all fans. "It was great to see the Astros lose," senior Ryan Dunbar said. "They do not deserve to win after what they have done."
This article would not be complete if third base coach Ron Washington was not mentioned. He has been in the game for 50 years now and had never won a World Series until now. He spent nearly twenty years as a player and has been coaching ever since. Similar to Freeman, the baseball world loves Ron Washington. Seeing the 69-year-old wave in runners with more enthusiasm than you'll ever see a third base coach have was a sight to see.