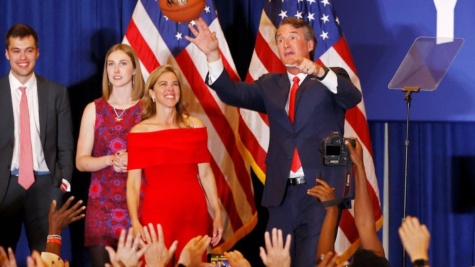 Harrison York | Editor-in-Chief
November 5, 2021
Virginia and New Jersey held gubernatorial elections on November 2, 2021. In an off year, the results demonstrated mixed sentiments towards the Biden administration, which faces a disastrously low 42.9% approval rating according to FiveThirtyEight's average of a range of different polls. This was reflected in Republican Glenn Youngkin's victory in becoming Virginia's next governor, as well as an unexpectedly close race in New Jersey, although incumbent Governor Phil Murphy (D) ultimately won.
Shocking the country, Virginia elected its first Republican to statewide office since 2009. Just last year, President Biden had won the state by slightly over ten percent of the popular vote.
"The difference in the popular vote is interesting considering that the state strongly supported Biden in 2020," senior Ian McKernan said. "I think that the controversy about vaccine mandates was a key factor in boosting voter turnout." This cycle, the gubernatorial election had the highest turnout since 1997, surpassing three million total votes.
Opposing candidate Terry McAuliffe (D) had tried to portray Youngkin as a 'Trumpian' politician, yet this effort failed as Youngkin promoted his stance without linking closely to the former president. Looking back on the campaign, the Democrats underestimated Youngkin and his appeals to parents and suburban voters, running a more passive campaign than necessary to beat the Republicans.
Republican Winsome Sears will make history as the first woman of color to hold office in Virginia after being elected lieutenant governor. Because Virginia has laws prohibiting governors running for consecutive terms, Sears will likely be a candidate for the top seat in 2025.
Youngkin appealed to conservatives by campaigning against vaccine mandates for teachers and students and promising more parent say in the public education system.
"We're going to press forward with a curriculum that includes listening to parents, as well as a curriculum that allows our children to run as fast as they can, teaching them how to think, enabling their dreams to soar," he said after his win. Specifically, Youngkin adamantly opposed critical race theory, which many Republicans named as the most important factor in determining their vote.
"[Youngkin] won in a previously heavily Democratic state, showing a shift in national politics, particularly against the Biden administration, as many of his policies regarding education and economics are causing partisan controversy," senior Daniel Lo said. In this election, "the Democrats focused too much on social cues, comparing Youngkin to Trump, and missed opportunities to contribute real solutions."
In New Jersey, Democrat Phil Murphy has won with a lead of about two percent. The race was too close to call for either candidate on Tuesday, and vote counting continued into the week. Murphy was able to break a pattern in the state that began in 1989, where every elected governor came from the opposite political party than the current president. 
The tight race sounded alarms for the Democrat party, however, as Biden easily led by 15.93% of the vote in the 2020 presidential election. Challenger Jack Ciattarelli (R) also defied poll predictions, which showed him trailing much farther behind Murphy than on election night. 
"To me, that means that [voters] are being less and less patient with the Democrat policies, and Republicans are gradually gaining support in hopes of change," senior Owen Geer commented on the results. "It can also foreshadow the midterm elections of 2022 if we see people leaning this way right now. It is the country's reflection of its low approval rating for Biden."
After the Associated Press declared Murphy the winner of the election, Ciattarelli's campaign issued a call for more donations to ensure "every legal vote is counted and the will of the people is heard" in a mass email Thursday.
Minnesota held prominent elections in certain cities and counties, most notably in Minneapolis. One of the questions on the ballot asked voters whether they want to replace the local police department with a "public safety unit." 56% of voters responded no to the question, a significant development after actions by officers from the Minneapolis Police Department led to the murder of George Floyd in 2020. The event sparked national protests, including calls to dismantle the police department of Minneapolis and many other cities.
Michelle Wu will become Boston's first Asian American and first female mayor after leading a successful campaign promoting progressive ideas on police reform. Wu had previously served on the Boston city council, focusing on the issues of climate change and the provision of affordable housing. While her candidates chose a more moderate path, Wu's vision for a progressive Boston was well-received.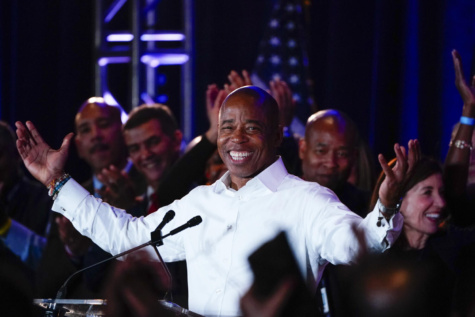 Another major city election was held in New York, where retired police officer Eric Adams won the mayoral race. Adams has voiced his ideas on education reform, including increased support for students with learning disabilities. On Thursday, Adams took to Twitter announcing that he would accept his first three paychecks in bitcoin. "NYC is going to be the center of the cryptocurrency industry," he explained. It is "interesting to see a US politician show support for a competitor of the US dollar," Geer stated.
His message responded to Miami Mayor Francis Suarez, who himself announced that he would accept bitcoin as his next paycheck. Both leaders hope to attract cryptocurrency business and increase its adoption in their cities as a way to boost their local economies.
Public education has taken center stage in the off-year elections. From a relatively insignificant issue in the 2020 general election, debate over the inclusion of critical race theory in classrooms became the most important issue for about a quarter of voters in Virginia, primarily conservatives who are opposed to the subject. 
The pandemic, of course, has remained a key factor in these elections, with Republicans and Democrats taking different sides on the implementation of vaccine and mask mandates. Federally imposed vaccine mandates have caused conflict between states, private companies, and the Biden administration.
The scattered November 2 elections offered insight into a shifting political landscape around the Biden administration, particularly the rise of new subjects of partisan division that will return in the 2022 midterms.