Harrison York | Editor-in-Chief
October 22, 2021
With over 50% of the total United States population fully vaccinated, the Biden administration looks to move forward with national vaccine mandates. A federal employee vaccine requirement is already in place, setting a November 22 deadline for full vaccination status. Because employees must wait two weeks after their second dose before being considered fully vaccinated, the millions of public workers must take the second shot by November 8.
Another group required by President Biden to be vaccinated are federal contractors, including many private companies, who face a December 8 deadline. Several big names out of this category have already made it clear that they will not follow the mandate.
Executives from American and Southwest Airlines recently stated that employees will not be fired over refusing to be vaccinated if they have an approved medical or religious exemption. Pilot labor unions are against the mandate as well, pushing for regular testing or other alternatives to forced vaccination.
Individuals and groups of military personnel, considered federal employees, also have opposed mandates. A lawsuit formed by members of the Navy, Air Force, Marine Corps, and Army named President Biden, Secretary of Defense Lloyd Austin, and Secretary of Homeland Security Alejandro Mayorkas as defendants. All active branches of the military are set to be fully vaccinated by the end of 2021, with the Reserve and National Guard due to receive the shot by June 2022.
In Texas, Governor Greg Abbott banned vaccine mandates within private corporations in the state. "No entity in Texas can compel receipt of a COVID-19 vaccine by any individual, including an employee or a consumer, who objects to such vaccination for any reason," Abbott argued in October. 
Florida Gov. Ron DeSantis has made preemptive moves to sue the federal government over vaccine mandates. DeSantis fined a Florida County $3.5 million for requiring employees to be vaccinated, stating, "We're going to make sure people are able to make their own choices. We're not going to discriminate against people based on those choices."
Both Abbott and DeSantis have been vaccinated and encourage eligible Americans to follow suit, but continue to fight against forcing this decision. Ten other governors have put forth legislation restricting vaccine mandates within their states, including Georgia, Arizona, Tennessee, and Indiana.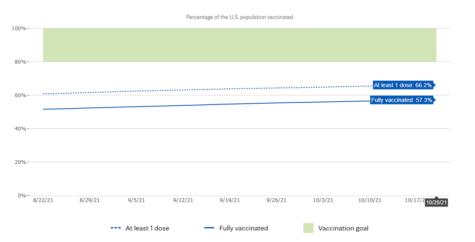 In the next few weeks, the federal Office of Management and Budget (OMB) is expected to release rules implementing vaccine requirements for all private companies with over 100 employees. 
Many large corporations, as well as states and cities, have begun enforcing mandatory vaccinations, including Boeing, IBM, Google, and McDonald's. 
California became the first state to mandate the vaccine for middle and high school students, requiring proof of vaccination at the start of the next school term, or semester. Currently, the FDA has fully approved the Pfizer vaccine for Americans aged 16 and older, but the order will expand to younger grades when the FDA grants the use of the vaccine for these students.
The mandate met a mixed public response. Students, parents, and teachers organized a school walkout in protest earlier this week.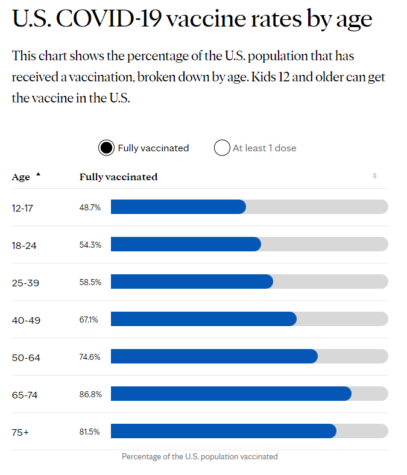 "Mandates are not fair for students," a San Clemente High School senior said. "It's an infringement on their rights and restriction on their freedom." The controversial mandate comes weeks after Governor Newsom handily survived a recall attempt in what seems to be the start of a stricter response to the pandemic in the state.
After a year and a half of the pandemic, however, vaccine mandates aim to create herd immunity with a large enough percentage of the population vaccinated to prevent the further spread of the virus. "I think [COVID-19 vaccines] should be mandated because of how dangerous the virus can be for some groups," senior Jason Herrmann said. "Because we have been through so much, this specific vaccine should be required, and it is different compared to a flu shot or other optional vaccination."
Gov. Newsom compared the COVID-19 vaccination to required vaccines against tetanus, chickenpox, polio, and other viruses in order to enter into public school. As the world recovers from the pandemic, it is likely that the current vaccine will be added to this list.