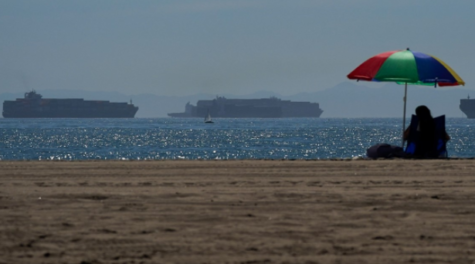 Shayna Sparks | News Editor
November 5, 2021
Over the last few months, ships have been collecting in the Los Angeles and Long Beach ports, building a backlog and causing issues for the supply chain. These struggling ports happen to be the two largest ports in the United States, accounting for about 40% of the country's shipping traffic. The majority of shipping that passes through them comes from Asia, and it carries household goods and raw materials for American-built products. This cargo is then taken across the country by trains and trucks, delivering to states as far as the East Coast. 
Before the pandemic, the wait time before docking was one day at most. However, recently, the waiting time for ships to dock has been about 10 days, leading to a backlog of 108 ships on October 21. Los Angeles and Long Beach aren't the only ports experiencing this congestion. Other ports in the US—such as in New York and Texas—as well as ports in Asia are struggling to process cargo ships. 
So, what caused this shipping dilemma? During the pandemic, people started buying more goods that had to be shipped instead of paying for services close to home. There are, of course, a limited number of cargo containers and ships, so even obtaining the resources to ship goods is difficult. Once the ships eventually reach their destinations, a shortage of workers exacerbates the problem, as there are not enough hands to efficiently unload the increased amount of cargo.
Both the Los Angeles and Long Beach ports are hiring, but there simply aren't enough people to take the goods from the ports to their final destinations. Additionally, trucking companies are struggling to find employees to transport goods across the country, since their numbers also dropped during the pandemic.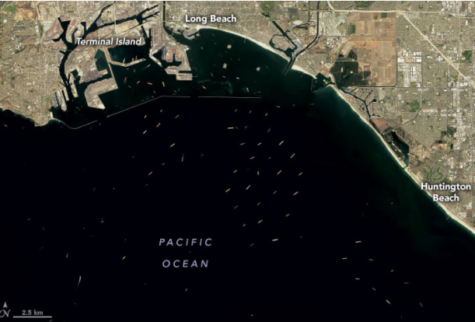 All of these shipping issues are causing supply chain problems throughout the country. While waiting for parts, manufacturing and assembly has slowed in factories. This, along with the many goods being held offshore waiting to be unloaded, is causing a shortage of products desired for the upcoming holiday season. In addition, the decreased supply means that prices are rising as goods are coming into high demand. Ultimately, this port blockage will cause delays ahead of products ordered over the next few months. For some, this won't impact their plans.
"I would [shop online] if I had money, but I don't, so I probably won't," freshman Meleena Castillo Cherry said. "If it doesn't come before Christmas, then I don't really care because I won't be able to get anything anyways."
However, it might be too late to start for people who do plan on shopping for Christmas. There is a slim chance that goods will arrive in time for the holidays, whether in-person or online.
To alleviate the backlog in Los Angeles and Long Beach, the ports are working with President Joe Biden's Supply Chain Disruption Task Force to improve the efficiency of the ports. The port of Los Angeles now operates 24/7, a significant increase from the previous schedule of operating 18 hours a day. Some of the available time slots to unload cargo aren't being used during the day because there just aren't enough trucks to account for all of the cargo.
The ports are also planning to impose fees, called the Container Excess Dwell Fee, on ships that wait in the harbor for too long. Officially starting on November 15 and planned to last for 90 days, these fees will start at $100 and increase by $100 for each subsequent day the ships remain in the ports. Cargo containers will have nine days for a truck to take them or three days if they are to be transported by trains before fees are imposed. 
"I'm planning to go Christmas shopping in person this year," junior Vicky Benitez said. "I'm not really worried about delays. I kind of just buy what's there."
Whether or not you plan to do holiday shopping now, an early start is even more important now than it has been in previous years. Americans have to be prepared for delays and shortages and enter the next few months with patience and flexibility.