Aaron Velez | News Editor
November 4, 2021
On October 22, director Denis Villeneuve's highly anticipated film, Dune, was released in theaters and on HBO Max. The film has an extremely renowned cast; Timothée Chalamet, Zendaya, and Jason Momoa led headlines and posters throughout the movie's production. 
The story, which was first written as a 1965 science fiction novel by Frank Herbert, follows a young protagonist named Paul Atreides, played in the movie by Timothée Chalamet, who goes on a Herculean journey to a new planet that has been placed under his family's protection. The entire story is centered around Paul, but the dynamics of his family and the harsh desert of the planet have the true power over him.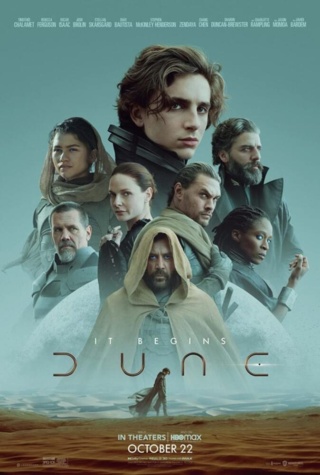 From a cinematography perspective, the movie was astounding. The costume and set design emphasized the beauty of the setting.
"If only one word could be used to describe it, it would be 'stunning,'" junior Ashley Jahed said. "The actors were amazing, and the way they emphasized the unique look of the desert planet was incredible."
Aside from the visual aspect of the movie, the film's score was written by Hans Zimmer, arguably the industry's most talented composer. Zimmer has won one Academy Award after eleven nominations, but fans of the film have no doubt that his captivating work for Dune with its unique instrumentation will earn him another.
"[Zimmer] put his all into this one," junior Farah Sumpter said. "I've followed him for a while, but this is absolutely one of his best works."
However, not all viewers were as positive about the hit movie, as many critiques immediately flooded social media and movie reviews after the film's launch. One of the largest critiques was the fact that one of the star actors, Zendaya, had only seven minutes of screen time in the two-and-a-half-hour movie, most of which came from scattered dreams throughout the film. 
Dune is set to have multiple parts, leading to an inconclusive ending which made some feel as though there was not enough progression in the movie to merit all of the hype. Still, very few had anything critical to say about the outstanding acting and picturesque nature of the film, showing promise for the future of the franchise.
"The movie was honestly amazing," junior Stella Olivares said. "I get why people are skeptical about the unresolved ending, but I'm excited to see what they do with the film going forward."