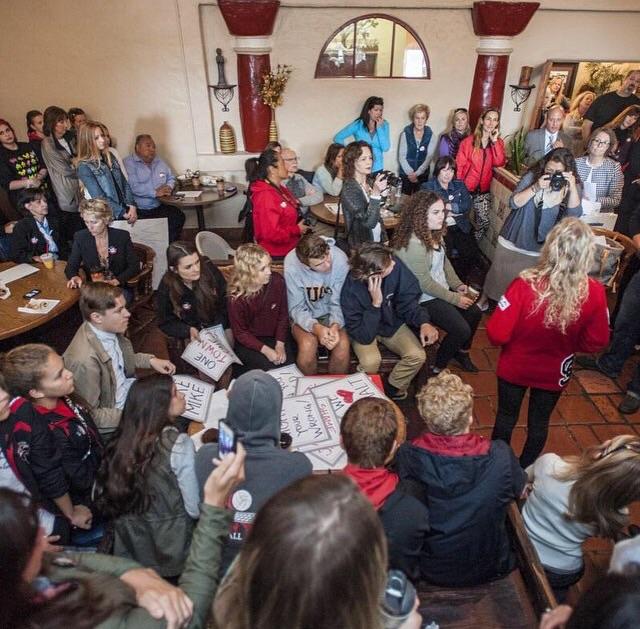 By Stephanie Alpizar | Writer/Photographer
May 27, 2015
San Clemente's residents have not let up, even an inch, in terms of support for the principal that presided over the school's campus for the past two years, Mike Halt.
Among devastating deaths and other tragedies that have currently struck the community, its people are standing strong, and are standing united. In continuation with the events surrounding principal Halt and the district's decision to not re-elect him for next year's position, San Clemente and its inhabitants are continuously shocked at the district's inability to answer questions, make changes, or address current concerns due to legal issues.
On Friday May 8th at 8 a.m., Capistrano Unified School District's Superintendent Kristen Vital attended the "Beachside Chat" at Café Calypso to hear the concerns of San Clemente residents. The first floor was filled to the brim on all sides with residents, parents and students of the high school. The organizer of the event made it a point to remind people that the building serves as a business, as well as a home to tenants on the second floor. Because of this and the noisy clapping and cheering, it was difficult for the advocates supporting Halt to voice their support for the speakers. Some of the speakers included Anna Mendez, Victoria Mendez (Cool to be Kind President), Jim Sigafoos, Alex Zewiski (Senior Class President), and Dwight Hamro. The objective of these speakers was to call for a reinstatement of principal Halt and an apology from the district.
Anna Mendez, mother of Victoria Mendez, focused on the mystery surrounding the non re-election of principal Halt and asked Vital "yes" or "no" questions, all of which Vital could not answer. One of the questions asked was if there was a connection between the events surrounding AP Art History teacher and the claim that there are "health and safety issues." Vital again answered that she could "not give a satisfactory answer."
Mendez's daughter, Victoria spoke her opinion about the "injustices" inflicted upon not only the community as a whole, but the students of the high school as well. Victoria asked how long Vital had lived in San Clemente. Vital replied, "9 months, since August of 2014." Vital also admitted to being new not only as a resident, but also as district superintendent. As Victoria attempted to branch off into a discussion with Vital, she was stopped by the event organizer because her questions were beginning to seem more like an "interrogation." Mendez had first heard about Halt's non-reelection when the district sent the email out to the community. She fears that the rumors might be true; that it was a purely political act. Mendez also feels the rumors of its connection to the removal of the AP Art History teacher were "thrown in as an excuse". Contrary to this, many members of the community share the same opinion as senior Cale Foreman that, "it had to do with the removal of the art history teacher. No question about it."
Victoria Mendez, along with San Clemente residents, felt that Halt was doing an exceptional job as principal. She says, "The general consensus around campus is that Halt was both a friendly and personally invested principal.  He took the time to know students' names, and even paid for one's dance ticket when they could not afford it.  If that is below 'rigorous standards,' I have no idea what those 'standards' could possibly involve." Foreman agrees and says, "I believe the real reason for his termination was political. Mr. Halt was not a 'yes-man' for the district and they were not too fond of the fact that he'd look out for the kids more than the district. Mr. Halt is the best principal I have ever had and the high school has seen in decades."
San Clemente resident of 40 years, Jim Sigafoos, questioned Vital on whether she thought that her decision to lay off Mr. Halt was right. When she said she could not answer the question, he reworded it. Sigafoos asked if she could re-do anything in relation to the topic at hand, would she. However, Vital gave an unclear answer that hinted that she thought the decision was not right but that she did not regret the outcome. He closed his time by informing the attendants of his letter and petition and enlightening Vital that, "In 30 years in San Clemente, I've never seen any event that has brought 100 percent of the town out in anger … everybody is mad at you."
Mr. Hamro prepared a list of improvements that occurred at San Clemente High School while Principal Halt was in place. Among those improvements were; less truancies, more students taking and testing in AP and IB courses, better test scores, improved teacher and student moral, improved attendances, better bullying prevention measures, and a revised dress code.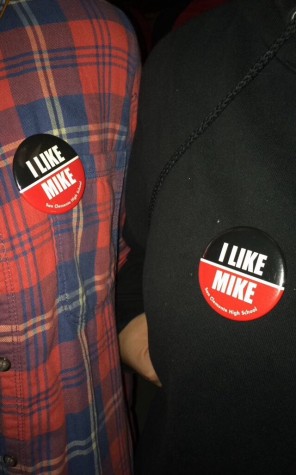 To shed light on these improvements, Senior Class President Alex Zewiski spoke on behalf of San Clemente High School students. She stated the fact that she was saddened to see that her fellow classmates had to resort to skipping first period to fight for this cause instead of being in class. Zewiski talked about how ASB has had three activities directors throughout the entire school year, making it more difficult to accomplish things to make the school year go well. Zewiski explained that because of this, more responsibility has been placed on the ASB members and students to undertake necessary tasks. Zewiski also stated that the district had been sending members to the school to talk about the recent changes and to try to help ease the burden placed on their shoulders. Zewiski, like many of the other speakers rallied around the previously stated comments that principal Halt was a beacon of light that not only guided the school to a better place, but also supported it in every way possible, including being involved in his students' lives. The class president was brought to tears while speaking, clearly showing how intensely the loss of the school's principal affected the students, especially being so close to the recent loss of one of their own, Saylor Voris, and now "[their] principal just being ripped out of [their] hands."
By the end of the meeting there seemed to be a lack of satisfaction among the attendants of the "Beachside Chat," there were no questions clearly answered, and no explanation for the events that took place. Despite this fact, the residents of San Clemente were given the opportunity to vent their concerns and show the district that they would not be so easily bypassed. This event served as the catalyst for more demonstrations to come that would, according to Zach Allnutt, "inform the district that the people they are supposed to represent will not let this pass without a fight, and that we will not forget how they handled it."
On May 13th, 2015, John M. Alpay's letter to the editor of the SC Times was published. It stated that the actions of Vital were "a textbook example of gross negligence" and that although she made it through an intense selection process, the members of the district were not aware that she is "completely and utterly tone deaf" in respect to hearing what the parents, teachers, and students had to say on the matter. Alpay confirmed that the Board of Trustees voted a number of months previously to end Halt's employment. Alongside this fact, Alpay states that they did not vote to "put him out on the street in such an unceremonious and uncivil fashion." Alpay also admits to not supporting Vital's decision, even calling her "incompetent," her six days of silence "unacceptable," and her merely saying "I live here!" is "not enough." Alpay contrasts Vital's actions to the "honorable" Halt and challenges her to "sincerely engage" with the community like Halt did. Alpay closes his letter by stating that if Vital's decisions are not corrected, then it would be in the "district's best interests to part ways with more than one employee." One could say that Alpay was responding to the Capistrano Unified School District board meeting on Wednesday, May 13th at 7 p.m. to save face; but one hopes that although this could be a very real possibility, that the district is not simply playing at politics.
Members of the community seem to be on the fence about Alpay as of late, but one San Clemente senior, Zach Allnutt, sees that, "While some criticize Alpay for 'flip-flopping,' and he did originally vote with the Board not to re-elect Halt, I appreciate his courage for being able to look at the file again and admit that the Board had not been presented with all of the evidence when making a decision.  I find it admirable that he is actually taking action based off of the public will, because that is what all of the trustees should be doing as our representatives." Another states, "Alpay is simply trying to save his political career. However, by doing so, he is helping our case; but he could have completely prevented this whole situation being our representative."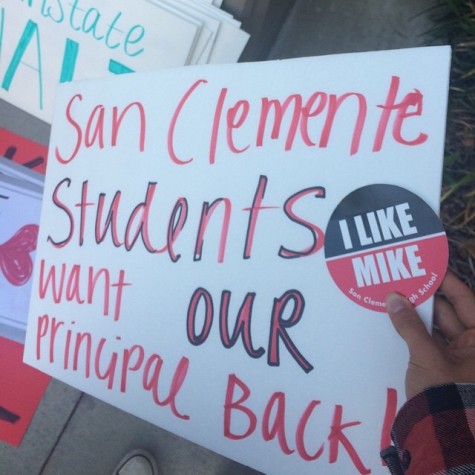 At the district board meeting there were more than 400 people seated inside the building, surrounded on the outside by dozens of people from the community, most holding signs reading "We Will Recall," "Shame on you CUSD," "We Want Our Principal Back," "Right Your Wrong," "Take Responsibility," and "Fight for the Principal and the Principle."
Trustees will consider hiring an independent investigator to review the dismissal of Halt. Alpay states that he met with Halt whom provided never-before-seen information that "bothered" Alpay "greatly." He claims to now believe that the board was not given all the information to make a fully informed decision and worries that they were "provided with a narrative to support a hidden agenda." Alpay asked his fellow board members to have this hiring on the agenda of the next meeting, while no one else supported this, he did not need a secondary vote to have it put on the agenda. However, when he asked for the next meeting to be earlier, he did not receive a second vote in support, and thus resulted in the next meeting staying on Wednesday, May 27, 2015.
Some students who spoke on behalf of principal Halt included Alex Zewiski, Jolee Cobb, Colton Hamming, Cale Foreman, and Rick Meyer. Supporting these students were parents, and faculty of San Clemente High school such as CUSD's high school teacher of the year Wendy Washington. Ms. Washington was upset when initially hearing about Halt's non-reelection because he was "a really strong principal." When interviewed about how she felt Halt was doing, she said, "I feel very pleased with the progress that the school has made in the last year and a half under his leadership. He worked well with the faculty, the moral improved. He formed good relationships with students; he even roamed the campus grounds at lunch. He had a vision for the school and a clear direction, was taking the leadership team in that direction, was involved in the instruction in the classrooms, visited classrooms often and gave really good feedback that showed that he understood the instructional process. The facility looked better, as he was giving more attention to detail, such the paint." In regards to the meetings, Washington appreciated that they let everyone speak and didn't cut them off at the 20 minute mark as a "good-will gesture" that allowed them to see how much he meant to the community. Washington also said that she was very proud of her students who were able to speak "articulately and with such passion." Washington is hoping for clarity as to why Halt was let go and a clearing of his name.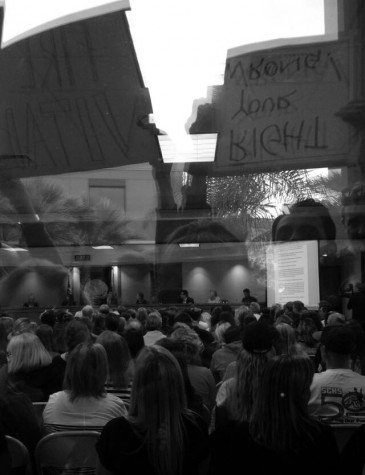 Senior Cale Foreman read parts of Mr. Halt's leadership philosophy that he had to submit to the superintendent before the school year. Foreman, along with many other community members felt that the board members' listening was very limited, he says, "In fact one of the board members was falling asleep during the meeting"
The night resounded with one prominent cry for justice, for CUSD to correct their mistake.
In the past few days, students of San Clemente High School have continued to rally for their principal by staging a sit-it on Friday May 15th. Hundreds of students left the main campus after second period to form the letters H-A-L-T on the turf of the school's stadium in the rain. This symbol helped to reaffirm the students' solidarity against the decisions of the district. San Clemente Senior, Cale Foreman, voiced that, "It was very reassuring to see so many students stand up for what's right. It made me proud to be a teenager and part of a group that cares about something bigger than themselves."
Teacher Wendy Washington shared her feelings with us on the sit-in and she said, "I think that students should do what halt would want them to do which is to be in class. I know that a lot of students are in support of him and decided to go to class because they felt that that would be the better way to honor him. So I think it depends on the student's opinion."
City Councilman Tim Brown proposed at a City council meeting on May 14th that San Clemente should "explore pulling out of the CUSD and forming its own district." For more information on this topic please visit: http://www.ocregister.com/articles/clemente-662022-district-san.html
Most recently, San Clemente students found yet another way to symbolically support Halt, and show their disdain for the district members. At the Boy's varsity CIF volleyball semifinals against Huntington Beach, students and parents created a reserved seat in Mike Halt's name in the center of the student section, where he would normally be found. A player's mother, Paige Foreman, made paper cutouts of Halt's face on tongue depressors to be held by students during the game. While a simple, and small gesture, the reserved seat signified how involved principal Halt was in the lives of his students and how much the community respected him.
On May 7th, the OC Register published principal Mike Halt's message to his students as well as a note from the incoming principal. To read the full article and their letters to the community visit: http://www.ocregister.com/articles/parents-660882-halt-district.html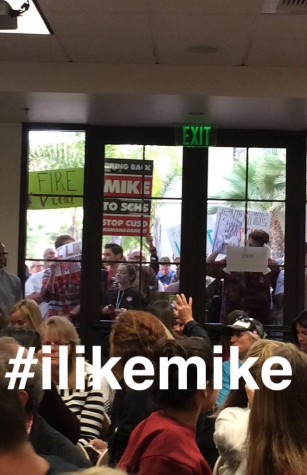 Thursday, May 21st, the district held a sudden meeting to vote on whether or not to hire a private investigator for the case. The room was again filled with supporters of Halt who would be there from 4 p.m. to almost midnight, waiting to hear the decision of the board members. In the time allotted, the board members did not come to a decision, so the vote will be moved to the next meeting to come. San Clemente Senior, Cale Foreman, states that, "I thought that this last meeting was successful in the fact that the board could not come to a conclusion rather than just shutting down the proposal of a private investigator." Foreman's fellow classmate, Victoria Mendez agrees that,
"While it was frustrating to many that the issue would not be discussed again until June 4th, I believe that the lack of decisive action was actually a good sign in many ways.  The Board easily could have come back with a massive vote to simply support Vital's decision.  The fact that they could not do that after hours of actually looking at Halt's file speaks volumes on its contents.  I believe that if the pressure does not relent, they will either reinstate him or hire a third-party investigator to evaluate the decision. If an independent investigator looks at all of the information on Halt (not just that in his file, but other information as well) and compares it with the information regarding both established and incoming principals within our district, I believe that he could be reinstated."
Overall, Mendez, as well as the majority of community members, are hopeful that, "Principal Halt will be reinstated.  It will show people that justice and change can be achieved if it is fought for."
The next known event in support of Halt is the a CUSD meeting to be held today, May 27th at 7 p.m. and it will be held at the District Education Center
Board Room
33122 Valle Road
San Juan Capistrano, California 92675. Look forward to more information on this topic in the following weeks right here at tritontimes.com