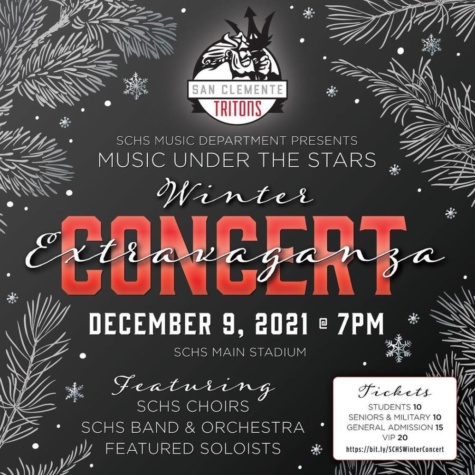 Aaron Velez | News Editor
December 9, 2021
The music department at San Clemente High School is presenting a "Winter Extravaganza" concert with a "Music Under the Stars" theme later today, December 9th, 2021. The concert will occur in the Triton Center beginning at 7:00 pm and feature performances from the choir, orchestra, and band.
One of the biggest reasons that this concert is so momentous is the sheer amount of time that it has been since the music department last put on a performance of this caliber. Aside from a small performance at Casa Romantica in October, the students haven't had any ability to play for audiences.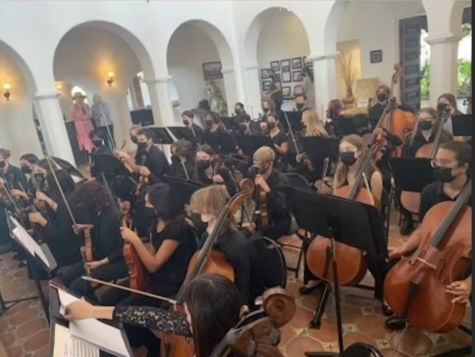 "Due to quarantine, our orchestra hasn't performed at a concert since the last Winter Extravaganza in 2019, so it's super exciting to perform again," cellist Mary McGraw said. "Band and choir will also be performing; it's fun to play together, and I'd encourage SCHS students to come watch!"
While music performances have fallen quiet in the era of Covid, the music room certainly has not; the students have been rehearsing since before Halloween, and are finally ready to perform. After exactly two years of pent-up practice, they will have an audience to watch their efforts, playing holiday favorites like orchestral renditions of "White Christmas" and "The First Noel." 
"I'm so glad that we're finally able to have a major performance after all this time," section leader Stella Olivares said. "The Winter Extravaganza is always the biggest event of the year for the entire music department, so anyone who is interested should pay the concert a visit!"

Come check out the concert later this evening! Buy your tickets here.