Helene MacBeth | Writer
December 12, 2o21
For most people, Hawaii is known as a warm, tropical paradise with a "year-round summer." Hawaii is the destination where many families choose to spend their vacations, looking to relax on the beach and get that desired tan. Instead of spending time in the snow where their hometowns may be located, tourists escape to the islands of Hawaii to get a taste of summertime. 
However, a recent blizzard warning has threatened the perception of Hawaii previously held by so many. On Thursday, December 2, 2021, a warning was issued about a blizzard scheduled to hit Hawaii. This warning was set to remain in effect until Sunday, December 5, 2021. 
The warning advised of 8 inches of snowfall and over 100 mph gusts of wind. It also brought a travel restriction in which travel was only permitted in emergency situations. If travel was absolutely necessary, a winter survival kit was highly recommended. Floods, which could also be a potential issue from the storm causing the blizzard, threatened the island as well. The temperatures were very cold for the Hawaiian norms, dropping to 55 degrees Fahrenheit. The strong wind and snow would cause visibility to be extremely low, with periods of zero visibility.
Snow and winter in Hawaii? The phenomenon seems unheard of. "I recently took a trip to Hawaii for Thanksgiving break, and the weather was warm and tropical," sophomore Charlotte Musial said. "It didn't even occur to me that there would be a potential of snow in Hawaii."
However, it actually is not very uncommon. Although this is the first bit of snow since 2018, Hawaiian natives recount the numerous times they have seen snow on the island. One woman took it to Twitter, saying, "I was born and raised on the Big Island of Hawaii. We get snow on the top of Mauna Kea almost every winter."
Even though it is a fairly common occurrence over the winter, many are surprised due to the fact that Hawaii is only one of two states to have blizzard warnings so far this season. Alaska and Hawaii are the only states in the United States to have experienced severe winter weather.
But just because there is a blizzard in Hawaii does not mean that the whole island is engulfed in snow. The snowy beaches that many picture are merely an imaginary image; the places where the blizzard is actually hitting include Mauna Kea and Mauna Loa, two mountains that are thousands of feet high.
Although the blizzard is limited to only affecting the top mountains of the Big Island, the rest of Hawaii is being drenched by heavy rain and flash flooding. Hawaii's governor, David Ige, declared a state of emergency on Monday afternoon that was set to last until December 10, 2021. Additionally, the rain was expected to cause extreme landslides and flooding, including flooding in unexpected areas.
Shea Gallagher, a junior who used to live in Hawaii, did not seem to express much concern. "It always floods in Hawaii, it's not that big of a deal," she said.
A High Surf Warning was also issued. The warning stated that waves could potentially reach up to 30 feet for north facing shores on the Big Island.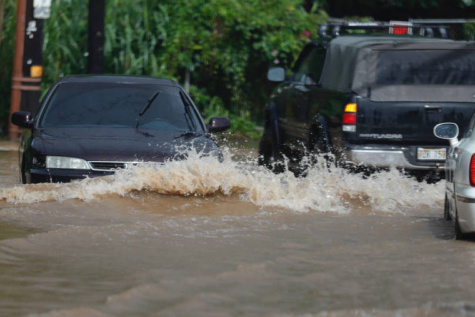 To add to the rare weather, many states that usually experience snow by this time of year have had extremely high temperatures. These states include Georgia, South Carolina, North Carolina, Texas, Oklahoma, and Arkansas, which have had temperatures around 80 to 90 degrees, far above average for early December. 
The weather has been extremely unpredictable and rare so far this year. While areas that are usually buried in snow remain warm and dry, areas that are known for being warm and tropical are experiencing a blizzard. 
What's next? Snow in San Clemente?