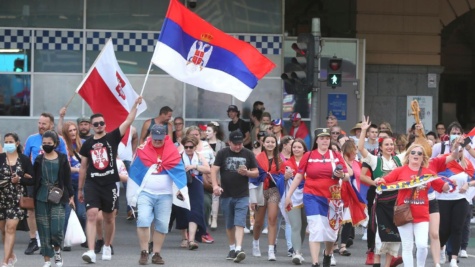 Harrison York | Editor-in-Chief
January 14, 2022
Novak Djokovic has faced wide backlash from fans and the media after a drawn-out clash with Australian leadership regarding his vaccination status. As the situation developed, it was revealed that Djokovic had attended certain events knowing that he had tested positive for COVID-19 in December of 2021. Djokovic has held the title of Number 1 male tennis player in the world for over 350 weeks, setting a record on the Association of Tennis Professionals (ATP) rankings for most consecutive weeks as No. 1. He is also currently tied for the most Grand Slam tournament wins, numbering at 20 with both Roger Federer and Rafael Nadal. Considering his momentum leading up to the tournament, he was the favorite to win and set a new record. However, it is now unclear whether he will play at all.
As professional sports leagues set forth vaccine mandates for their players, several standouts sparked debate over the necessity of vaccines for athletes to be eligible for play. Kyrie Irving of the Brooklyn Nets has not played a single game this season in the NBA after his refusal to be vaccinated, and Green Bay Packers Quarterback Aaron Rodgers has been criticized by reporters for his similar decision. 
On January 5, Djokovic was barred from entering Australia after an issue arose with his visa. While those who are unvaccinated can enter Australia with a proper medical exemption, Djokovic's visa application contained an error and was canceled upon his attempted entry into Melbourne. The player's team had secured a proper exemption from the Australian Open itself, yet the government gave him no special treatment, and Australian border authorities kept him guarded in a hotel room.
"He won't be treated any different to anyone else and he'll be on the next plane home," Australian Prime Minister Scott Morrison said.
But Djokovic and his lawyers appealed the visa cancellation and had a court hearing on January 10. During the case, more information was revealed about his exemption and actions regarding the virus. He had tested positive on December 16, 2021, and, having recovered, was given an exemption from independent medical professionals to participate in the tournament. Although cleared by Tennis Australia as well as the Australian State of Victoria, the federal legal team argued that he had not completed the correct paperwork to enter Australia itself.
"I think that it was unfair for [Djokovic] to be detained throughout this issue because he had already been cleared by the Australian Open," junior Arthur Trinh said. "The government in Australia could have worked with him rather than against him knowing that he had exemptions from the tournament and even the state."
The judge ruled in favor of Djokovic, reinstating his visa on the grounds that he had not been given enough time to speak with his lawyers before being detained. In another turn of events, however, the government lawyer threatened that the immigration minister "will consider whether to exercise a personal power of cancellation."
Such a decision would not only result in the No. 1 seed losing his chance to defend his title in 2022, but a three-year ban on travel to Australia. It didn't help Djokovic, though, that during the hearing it became apparent that he had attended an interview and photoshoot with L'Equipe knowing that he had the virus back in December. The previous day, he had been present at a tennis event giving awards to young players, but he claims to not have known he had the virus at this time.
There is an important lesson in this series of events. Greater than the debate over vaccine mandates is the precedent that athletes must abide by the same rules as the rest of us. "If he gets a special pardon then everyone else would feel entitled to one too, and it would be hard to maintain a sense of credibility for the importance of the vaccine," senior Audrey Root explained. "[Djokovic] shouldn't be granted a pardon just because he's a celebrity if it comes at the expense of the citizens of Australia."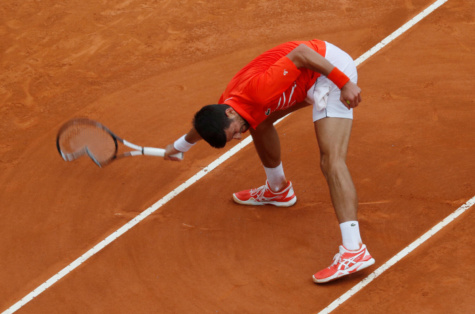 Unfortunately, despite his immense athletic skill, Djokovic has had a history of controversy in the sport. In 2020, he was disqualified from the US Open after accidentally hitting a line judge with a ball out of anger. Several times throughout his career, the player has claimed to be in need of medical assistance when he is having difficulty during a match. This has led to criticism by fellow pros, who argue that he has exaggerated his injuries. More questionable injuries have also led to early retirement from tough matches.
This event is still developing in the days leading up to January 17, when the Australian Open begins. Given his dramatic history, the future for Djokovic in the tournament is uncertain.