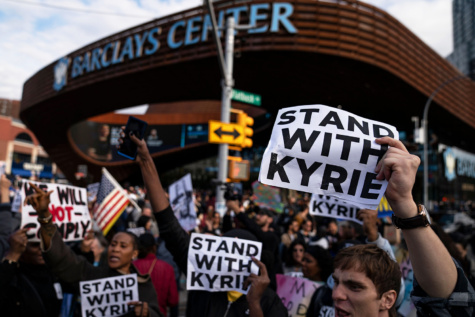 Ben Cooper | Sports Editor
Kyrie Irving has been one of the most controversial players in the NBA this season. Irving is well-known for his off-the-court antics, and his latest stance has caused a political stir.
Irving has not played a single game of basketball this season due to the vaccine mandate in New York. Since he is unvaccinated, he is unable to play in any Brooklyn Nets home games, and although he is eligible to play in away games, the Nets decided that it would be impractical to have the inconsistency.
"Obviously, Kyrie has his own belief, so I respect that," Nets Owner Joe Tsai said, "but we have to make a team decision. This is not a decision about him. This is a decision about where we go as a team. And it is just not tenable for us to have a team with a player that comes in and out, no home games, only away games. What do you do in practice then?"
Irving will not join the team this season unless he gets vaccinated. "It's very understandable," senior Haze Brawner said. "He plays for Brooklyn, which has a high population. The vaccine is more necessary there, and the state has inflicted a mandate. It's for the protection of everyone."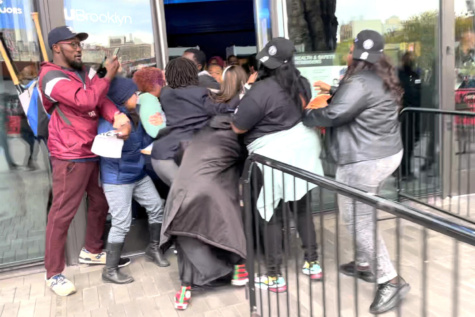 This debate has sparked some Nets fans and anti-vaccine mandate supporters to protest outside of Barclays Center, the Nets arena. These protests escalated and led to people storming through the barricades in an attempt to get into the arena. 
"I feel like the fans are going overboard," senior Nathan Alonso said. "The health and safety protocols should be obeyed, and they are ruining the experience of a game for other fans that paid for tickets to go."
Irving's stance on the vaccine fits in to a greater national debate on mandates and their place in society. 
"This is my life," Irving said. "I get to do whatever I want with this. This is one body that I get here. And you are telling me what to do with my body. This has everything to do with what is going on in our world. And I am being grouped into something that is bigger than just the game of basketball." 
Despite not playing a single minute this season, Irving has remained in NBA headlines. He doesn't seem to be changing his mind on the vaccine mandate anytime soon, which will keep him out for the rest of the season. 
Fans opinion of Irving has become even more controversial since his hold out. He has always shared his unique opinions, but this time he is taking a stance on a political issue that has riled up many Americans.